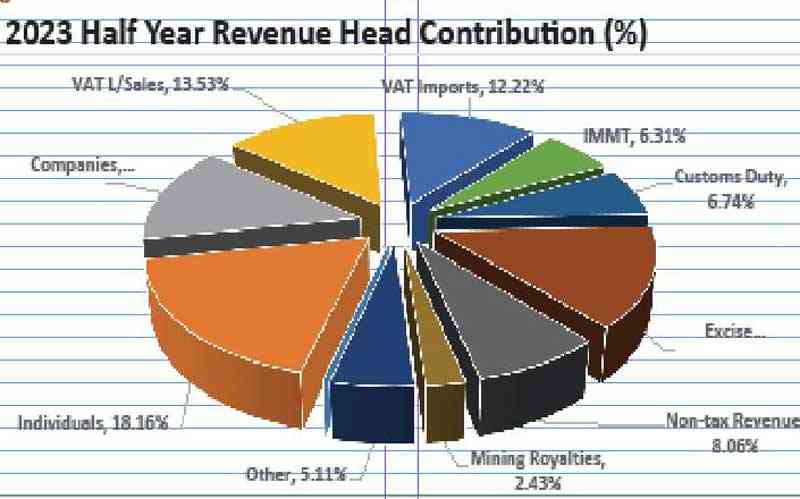 AUGUST 2023 was a crucial month for Zimbabwe as it held its harmonised elections to determine the next president, members of parliament, and local councillors.
As always is the case, the election was marred by numerous irregularities, and the final electoral result was disputed.
A lack of dispute resolution will exert huge socio-economic implications weeks and months ahead. While this shall be analysed soon, for this week the column is laser-focused on economic developments that transpired in August.
Inflation
The official statistics agency, Zimbabwe National Statistics Agency (ZimStat), shows that year-on-year (YoY) blended inflation mounted by 77,2% in August 2023, a significant moderation from 101,3% registered in July 2023.
Although annual inflation has been trending downwards since the turn of the second half of 2023 (2HY23), it remains unacceptably high.
For instance, this August 2023 inflation outturn indicates that consumer purchasing power has fallen by a staggering 77,2% from August 2022 levels.
From a month-on-month (MoM) perspective, blended inflation accelerated by 9,1 percentage points to -6,2% in August 2023 from -15,3% realised in July 2023. This means that for two consecutive months, Zimbabwe has experienced negative blended inflation (deflation).
The moderation of growth in the general price level being experienced in the 2HY23 is largely attributable to a relatively stable Zimbabwe dollar (ZW$) in both official and forex exchange markets.
In the first two months of the 2HY23, the Zimdollar officially gained 13% per month on average. If the stabilisation measures instituted by authorities in 1HY23 are augmented by swift implementation of reform matrices (economic, governance and land tenure reforms) agreed between Zimbabwe and its creditors, the ongoing price stability will become durable.
This will, however, require adequate political will lest the economy continues to rapidly gravitate toward full-scale dollarisation. Already, as of the end of June 2023, 81% of the total money supply, 88% of the total deposits, and 94% of total loans were United States dollar (US$).
Generally, dollarisation greatly stabilises market prices. However, there are many medium to long-term costs than benefits attached to full dollarisation for a small, developing, and open economy like Zimbabwe.
Exchange rate
Statistics show that the Zimdollar sailed largely stable in both markets in August 2023. In the official interbank market, the local unit slightly lost 2% to close at ZW$4 608.11 to the US$1 from ZW$4 516,8 to US$1 end of July 2023.
In the alternative (parallel) markets, the local unit slightly gained 1,7% to close at an average of about ZW$6 000 to US$1. As a result, the average foreign exchange premium plummeted to 30% as of end August 2023 from 35% as of end July 2023.
This decline is highly commendable given that mid-July 2023 the parallel market premium was at 50%. The premiums are trending toward a conventional threshold.
There is a consensus among monetarists that parallel market exchange premia should not exceed 20% for stability to hold.
Helping contain depreciation in 2HY23 is a decline in Zimdollar liquidity as authorities introduced various policy measures to mop excess Zimdollar liquidity in the economy such as gold instruments, wholesale forex auction for banks, and 50% of corporate tax in Zimdollars.
The actual RBZ statistics show Zimdollar-denominated total money supply plummeting by 9% in June 2023 to close at ZW$1,9 trillion while preliminary statistics for July are pointing to another significant decline in Zimdollar liquidity.
In the outlook, however, Zimdollar depreciation pressures are expected to remain elevated as fiscal spending is generally high in the second half of the year which coincides with support for the main summer agriculture cropping season and payment of the 13th cheque.
Again, increased socio-economic uncertainties posed by Zimbabwe's disputed election together with negative spillovers from deteriorating global geopolitics and unsustainable public debt will likely exert pressure on economic agents to offload Zimdollar thus destabilising its value.
Public accounts
Latest statistics from Zimbabwe Revenue Authority (Zimra) show nominal net revenue collections for the first half (1HY23) were ZW$4,43 trillion, translating to nominal and real growth of 801,58% and 1,63%, respectively.
Foreign currency revenue collections amounted to US$1,32 billion against a target of US$1,37 billion, leading to a negative variance of 3,72%. Positive growth was registered in all revenue heads in nominal terms.
Zimra's 1HY23 revenue collection outturn is 34,4% higher than the revenue collection projected in the 2023 approved budget. Treasury initially expected revenue collection of ZW$3,9 trillion for 2023 thus incurring a budget balance of ZW$575,5 billion.
Also, the Treasury statistics showed that remuneration of public workers, infrastructure projects, and operational costs in the 1HY23 consumed a combined ZW$3,7 trillion to give a budget surplus of about ZW$600 billion in the 1HY23.
This 1HY23 expenditure bill constitutes about 82,2% of the initially projected 2023 approved budget expenditure ceiling, leaving only about 17,8% to cover the 2HY23.
The 1HY23 excessive Zimdollar depreciation and exorbitantly high market prices significantly reduced the real value of the 2023 approved budget.
Consequently, the Treasury is now expecting to spend about ZW$25,6 trillion (469% higher than the initial projection of ZW$4,5 trillion) by the end of 2023.
In light of the foregoing, the Treasury must ask Parliament for a supplementary budget. Failure to do so will result in a parliamentary condonation thus inhibiting efficient and effective PFM — lack of budget transparency and accountability.
This is because, by law, the Treasury must seek authority from Parliament before it spends excess revenues or exceeds the approved expenditure ceiling.
Electricity
The latest electricity tariffs came into effect on September 1 2023. According to Treasury regulations, only exporters, such as miners are billed in foreign currency while domestic and other users are billed in local currency.
Each month, electricity users are entitled to a discounted 400 units of electricity costing about ZW$217 200 (as of Sept 1) regardless of the date of the new month.
Zimbabwe Electricity Supply Authority (Zesa) has ditched the use of flat tariffs in favour of the stepped-up tariff. This means that the first few units bought are cheaper.
For instance, in September 2023, the first 50 units including REA cost ZW$146,50 per unit while the next 51-100 units are charged a rate of ZW$293,40.
Stepped-up tariffs help to ensure that the poor majority can afford electricity while ensuring that those using more electricity pay more.
However, hydro output from Kariba Dam is facing serious threats from dwindling dam water levels. Also, this is expected to deteriorate in the coming months due to El-Nino weather conditions (above-average temperatures) projected for the Sadc region.
If this holds, minimal power rationing schedules being currently experienced across the nation will likely worsen and cripple economic activity unless there are significant incentives to mobilise private investments into the energy sector.
Fuel
Zimbabwe Energy Regulatory Authority (Zera) has published new fuel price caps effective September 7 2023. These caps are based on the M-1 pricing mechanism and they will be effective up to October 4 2023. The price of a litre of petrol was capped at US$1,65, which is up 2,5% from US$1,61 in August 2023. This is the highest price since June 2022 when it was capped at US$1,77.
As for diesel, a litre was raised by 6,7% to US$1,76, the highest level since July 2022.
In ZWL terms, the price for a litre of petrol has increased to ZW$7 648.14 in September 2023 from ZW$7 300.72 while that of diesel was increased from ZW$7 492.63 in August 2023 to ZW$8 160.44. However, the Zimdollar fuel market for the public is now non-existent.
Zimbabwe fuel prices (USD)
Largely driving domestic fuel prices since June 2023 is the rising global crude oil prices, reflecting market tightening.
Deepening Organisation of the Petroleum Exporting Countries (Opec+) supply cuts have collided with improved macro-economic sentiment and all-time high world oil demand.
In the outlook, market balances are set to tighten further as Saudi Arabia and Russia extend supply cuts at least through September.
But be that as it may, Zimbabwe's fuel pump prices are exorbitant, the second highest in the Sadc region. This is largely attributable to expensive locally produced ethanol, high fuel taxes and levies, subdued market competition, lack of adequate infrastructure, limited public investment in exploration, and vested interests.
Sibanda is an economic analyst and researcher. He writes in his personal capacity. — [email protected] or Twitter: @bravon96.
Related Topics