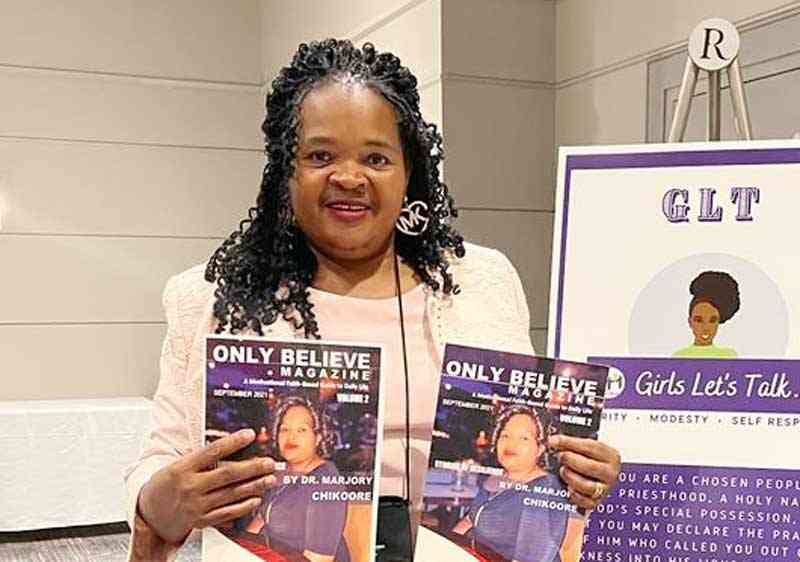 ONE of Zimbabwe's trailblazing female author's dreams is to write 100 books before she retires.
Who can doubt someone who works for six months a year, with the remaining months dedicated to writing books.
Taking back award-winning author Marjory Chikoore to the period when her O' Level results were announced, my question was whether at that time she would have thought that writing the 12 books she has already authored would have been possible?
Chikoore's journey is a triumph-over-adversity testimony after passing one O' Level subject, her vernacular language for that matter.
Her response to that question is what I anticitipated that it would have looked impossible but by faith she made it.
The faith and dogged determination to succeed in the face of seemingly insurmountable obstacles was typically that of a believer.
From the launch of her inaugural book, Defining Divine Moments, on February 13 last year, her faith, and roots lie in her United Methodist Church upbringing
Her mother's emphasis on education, also inspired her to successfully pursue her God-given dreams.
She is a holder of five degrees that include a Bachelor of Education in Administration, Planning and Policy Studies, three Masters: Master of Business, Master of Divinity, Master of Social Work and a Doctorate in Psychology.
She has worked in many positions of leadership as a chaplain, social worker, teacher and human resources consultant among other high profile positions.
Also inspiring is that Chikoore, who has lived in the United States for 17 years, has enjoyed the opportunity to travel across the globe.
No wonder she writes about discovering and celebrating one's personal identity.
"In order to fulfil your purpose, you must first know and celebrate your identity and be the solution the world is waiting for," she said.
God knew what he was doing when he created you like he did is her inspiring message to those who face similar adverse situations she has managed to conquer.
She has also faced hurdles in marketing her books,
"My challenges are that I have not been able to put my book in the book stores," said the author.
"I am working on it and at the moment I have overcome these challenges by delivering my books locally and posting abroad."
She is channelling proceeds from her books to her philanthropic organisation, the Pop and Help
"It's an idea that seeks to assist anyone who pops at our door in their hour of need," she Chikoore.
Related Topics