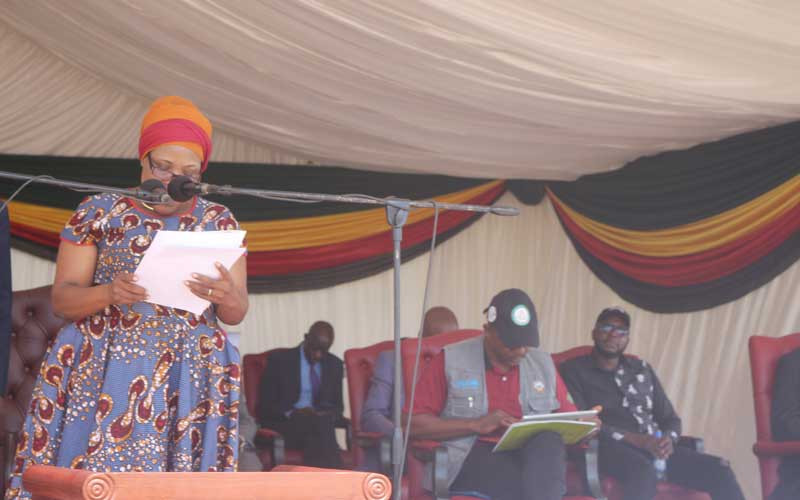 This year's World Aids Day commemorations were held at Rudhaka Stadium in Marondera on Friday at a time efforts are being done to roll out impactful HIV intervention programmers meant to end by 2030.
Vice-President and Health and Child Care minister Constantino Chiwenga, in a speech read on his behalf by Mashonaland East Provincial Affairs minister Apollonia Munzverengwi, said there was progress in antiretroviral treatment uptake.
"Despite the earlier Covid-19-related disruptions, which had threatened to reverse treatment outcomes, I am glad that Zimbabwe's treatment programme has regained its composure and added nearly 100 000 new people in 2022, who are now part of the 1,2 million receiving life-saving antiretroviral therapy," Chiwenga said.
The Health minister said despite the country having performed well in HIV management, there are still gaps that could be plugged as part of equalising access.
"These gaps are around access to, and utilisation of services by the most at risk and vulnerable groups, including sex workers, adolescent girls and young women and prisoners among others," he said.
"The year 2023 is already beckoning and my ministry will scale up all high impact interventions to achieve the objectives of the World Aids Campaign theme.
"Let me also make a call unto our partners and donors to continue supporting us in optimising HIV prevention and treatment, and leaving no one behind."
NAC CEO Bernard Madzima said in cognisance of the immeasurable role communities play in combatting the HIV virus, they affixed the vowels A-E-I-O-U to the global theme Equalise.
"Our theme this year is Equalise, which is a call to action to address inequalities in access and utilisation of HIV and Aids services largely by most at risk and left-out groups," Madzima said.
"While the response has generally expanded and achieved good overall coverage, there are various communities that are left on account of policies and practices that ignore, stigmatise and shun them.
"Without the relevant inclusion and equalisation of access to services and their utilisation, achievement of epidemic control will be held back.
"The theme, therefore, makes a call unto us to address the attendant inequalities and establish an enabling environment for provision and utilisation of quality HIV services.
"Through a community participatory process, we have localised the theme and added the pay-off line A-E-I-O-U! which stands for Access, Empower, Inclusion, Opportunities and Upholding of Human Rights."
He said NAC, working with the Health ministry and its partners, has programmes which are looking into the previously marginalised groups.
"In addition to the high impact HIV prevention interventions that include HIV testing, condoms, prevention of mother to child transmission, pre- and post-exposure prophylaxis, voluntary medical male circumcision and treatment as prevention implemented by various partners, the National Aids Council is implementing various peer-led models for demand generation across all districts to improve uptake of the interventions," Madzima said.
"These models have led to high uptake of services by previously marginalized groups such as adolescent girls and young women, sex workers and men who have sex with men.
"We have also deliberately targeted boys and men through specific models and engagement mobilisation campaigns, through which we have sought to address cemented cultural beliefs that perpetuate gender imbalances and raise women's exposure to HIV."
The CEO said in as much as the Covid-19 pandemic and lockdown restrictions stalled progress, NAC and its partners had interventions which shock-absorbed its knocks.
"I hope that you are all happy as I am that we are meeting under significantly improved conditions following the recession of the Covid-19 threat even though it is still present," he said.
"After taking some knocks from the Covid-19 pandemic in 2020, the national response has been on a recovery trajectory.
"The number of new HIV infections dropped from 24 900 in 2020 to 22 800 in 2021, while the antiretroviral therapy coverage rose from 92% to 92.43% of the 1,301,400 people living with HIV during the same period.
"Half way through the pursuit of the 95-95-95, we are proud that Zimbabwe has already achieved these targets."
UN Zimbabwe resident coordinator Edward Kallon said there was need to look into initiating more children on art.
"First, address the starkest inequalities impeding access to treatment for children and adults," Kallon said.
"Only half of children living HIV are on life-saving treatment, far behind adults where three quarters are receiving antiretroviral treatment.
"I am glad to note that Zimbabwe has joined the Global Alliance to end Aids in children which is a strategic initiative to end Aids in children by 2030.
"Second, tackling the dangerous inequality is gender norms. Right now, around the world, an adolescent girl or young woman acquires HIV every two minutes.
"The focus of the HIV response is on women and children who are often viewed as victims."
Sethule Dube is an intern in the communications department at the National Aids Council.
Related Topics