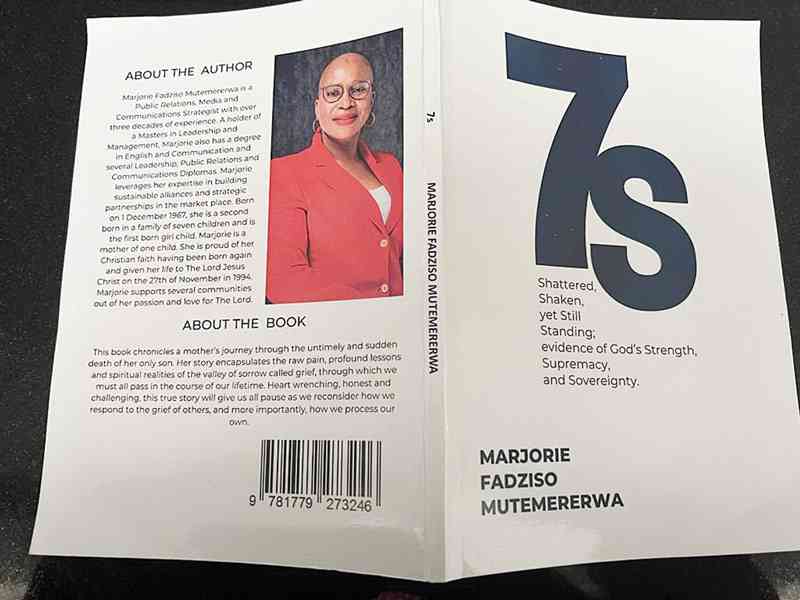 FAMOUS public relations, communications strategist and author, Marjorie Fadziso Mutemererwa has penned 7S, in memory of her late son, Richard Kevin Rugube who died about 12 years ago.
In the 84-page book, Mutemererwa opens up on the emotional, physical, psychological, spiritual, mental, physiological and health stages she has gone through following the death of her son.
Rugube was electrocuted on February 3, 2011 at his father's house while taking a shower to go to school at St George's College in Harare.
After his death, Mutemererwa formed the RKR & MFM Trust in 2012 at St George's College in honour of her son, but the pain of losing him lingers in her heart.
"The electrocution and passing on of my son and only child Richard Kevin Rugube inspired me to write my first book. The book, 7S, has taken me over seven years to write because the journey of grief is a daily emotional struggle," she noted.
"I named the book 7S because of the emotional, physical, psychological, spiritual, mental, physiological and health stages I have gone through and how God has been walking with and leading me through this whole excruciating journey."
Mutemererwa notes that the book is also about raising awareness to family and friends to go easy on bereaving persons, especially mothers.
"Grief, loss, sadness and pain is not an overnight journey. One minute you are okay, the next you are not fine at all. Next you are confused, next you are perfectly fine and clear. And so, it goes on," she said.
"We plead for gentleness, compassion, kindness and support. We are wounded human beings. We just need to be understood. I can only say Ebenezer, the Lord has brought me this far, for it is not by might nor by power, but by God's spirit."
Mutemererwa said preparations for the launch of the book were at an advanced stage, adding that it would also be found on Amazon and selected book stores.
"We are now at the final stage of the book launch preparations and the good thing is that the book so far is out and on evaluation with critics and analysts," she noted.
"I want to launch something which is perfect, dedicating this to my son. In fact, it is actually like my baby, hence I am treating it well."
Mutemererwa said her journey had enabled her to understand and appreciate support from others.
"I have found a hobby in writing and this is just the beginning, more books are coming," she said.
She said women should be proud of themselves, what they do and how they can help run the world.
"In general, people need to be sensitive and mindful of what women go through emotionally, physically, mentally, psychologically and spiritually," she said.
"Society and the community at large must support women and not violate and rob them of their God-given grace. Women must not gang up with men to humiliate and shame other women.
"This happens everywhere: in families, in churches and various communities and also in the corporate world. You read so much about women being used by men to abuse, lie and hurt other women. This is unacceptable and must stop."
Related Topics