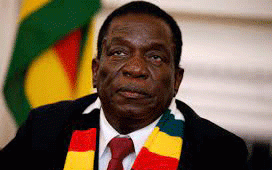 SOMETIME last week, a group of Zanu PF supporters was captured in a sickening video calling for the death of Citizens Coalition for Change leader, Nelson Chamisa and threatening anyone who would mourn him.
Chanting "Pamberi nerufu rwaChamisa, pasi nevachamuchema," the video was shocking and disgusting considering the current political climate as Zimbabwe heads for general elections next year.
Even the seemingly repentant Zanu PF prodigal son, Jonathan Moyo, described the video as "plainly repugnant and criminal" on his micro-blogging Twitter account.
However, what is disturbing is that the video was recorded during the burial of national heroine Betty Flora Mtero at the National Heroes Acre last week.
The most surprising and disturbing thing about the whole incident is how President Emmerson Mnangagwa and his colleagues in the Zanu PF leadership have allowed such divisive characters to continue to be associated with the revolutionary party.
Zimbabwe, especially today, December 22, a day set aside to commemorate the Unity Accord, should not be witnessing such unbecoming behaviour in a democracy which the leaders claim to have fought for.
This is not the first that we have witnessed this from Zanu PF supporters. One activist in Mberengwa was captured on camera while calling for Chamisa's death.
Interestingly, we have never heard the Zanu PF leadership telling its supporters to stop making such utterances, apart from the generic and offhand remarks designed to deceive.
Even when they do say that, we have heard reports and reported on incidents where Zanu PF supporters attack anyone believed to be in opposition or suspected to have opposition sympathies.
It is a wonder why the Zanu PF leadership condones such barbaric behaviour.
It also raises the question why Mnangagwa does not speak strongly or take action against such actions by his supporters.
Is it not in the interest of Zanu PF and Zimbabwe that we behave peacefully, and forget about the political slogans that call for the elimination of rivals?
Is Mnangagwa and his Zanu PF cohorts partial to such rowdy supporters calling for the death of political rivals in a democratic society?
Would the death of Chamisa bring the much-needed economic turnaround that many Zimbabweans are demanding? Does his death make everything honky-dory? Or they simply do not like what they see about themselves in the mirror that he is holding?
It's sad that Zimbabwe is still engrossed in the politics of the liberation struggle that ended more than four decades ago instead of looking to the future.
We ask again: To what end are we chanting such slogans and who is benefiting from such behaviour? Why are our politicians still locked in the Second Chimurenga mentality in this day and age?
We call on Mnangagwa and the Zanu PF leadership to turn the leaf, start promoting peace and concentrate on reviving the country's economy and uniting the nation.
We all benefit from unity and a violence-free environment.
Related Topics