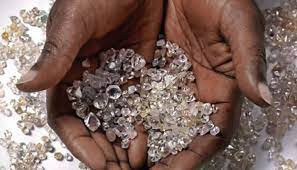 ZIMBABWE will meet the US$1 billion revenue target from the sale of diamonds this year owing to an increase in performance by diamond producers, a senior government official has revealed .
The government launched an ambitious plan to transform the mining sector into a US$12 billion export industry by the end of 2023.
The plan was launched in October 2019 declaring mining as a key pillar to sustainable economic growth. An achievement of that target would represent a 275% jump from the US$3,2 billion realised through exporting mining commodities in 2018.
The blueprint targets a gold output of US$4 billion per year with platinum at US$3 billion. Diamond mining and polishing was set at US$1 billion, equal to the combined target of chrome, nickel and steel. Coal, hydrocarbons, lithium and other minerals were projected to contribute the remaining US$3 billion.
Mines permanent secretary Pfungwa Kunaka expressed confidence that the country would meet the US$1 billion target this year spurred by improved production.
"We will meet the target. All producers are selling now unlike last year when little was sold for the better part of that year. Production performance by the producers has improved quite significantly," he told Standard business.
He said the Ordinary Meeting of the African Diamond Producers Association (ADPA), which was held in Victoria Falls last week, was a forum to discuss matters pertinent to production and marketing of diamonds and strategies that ensure African member countries approach issues from an informed position on the international diamond arena.
He said as Zimbabwe assumed the chairmanship of ADPA, replacing Tanzania, the discussions would add impetus to the attainment of the US$12 billion mining sector under which diamonds should contribute at least US$ 1 billion.
However, the developments come at a time the country is reviewing the Mines and Minerals Amendment Bill which is currently before Parliament and has on several occasions been criticised for failing to include clauses that will effectively regulate mining activities.
The archaic 1961 legislation is being revised because it has no provisions to handle disputes over mining titles, corruption in the mining sector, environmental degradation, human rights violations and revenue leakages in the sector.
In a consolidated analysis titled: Analysis of the Mines and Mineral Bill HB10 2022, Zela said a comprehensive, regulatory, administrative and institutional mining framework was crucial to the creation of a competitive investment environment for Zimbabwe's mining sector.
In 2018, President Emmerson Mnangagwa sent the Mines and Minerals Amendment Bill back to Parliament saying it still had areas that needed to be addressed before he could sign it into law.
Related Topics