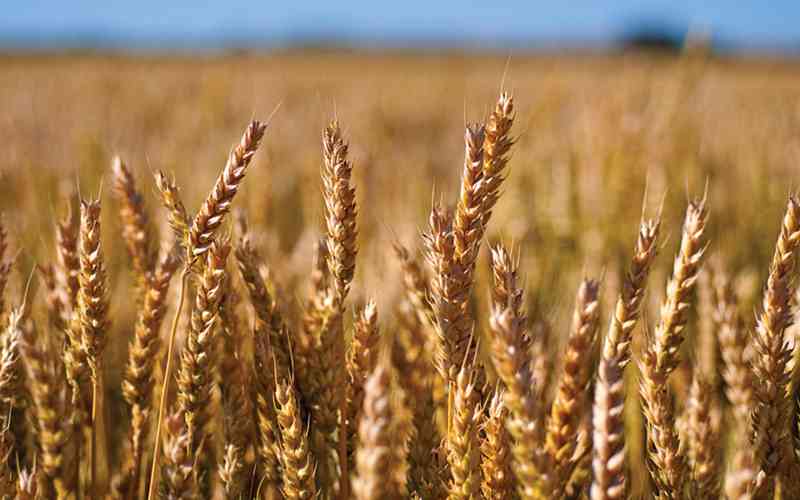 THE Zimbabwe Mercantile Exchange (ZMX) has put in place some trading structures to support wheat farmers and contractors.
The ZMX is an agricultural commodity trading platform with automated electronic warehousing and receipting capabilities.
"Following the joint announcement by Lands, Agriculture, Fisheries, Water and Rural Development and Finance and Economic Development ministries on the modalities for the 2022 wheat trading, the Zimbabwe Mercantile Exchange (ZMX) would like to advise farmers, contractors, wheat buyers, wheat processors and other wheat value chain stakeholders of the following wheat trading structures that have been put in place to support wheat farmers and contractors," ZMX said in a statement.
"All self-financed farmers and contractors who deliver wheat to designated warehouses shall be issued with warehouse receipt in terms of the Warehouse Receipt Act [Chapter 18:25].
"The following are the approved warehouses that will issue warehouse receipts in terms of the said Act: GMB depots — Aspindale, Banket, Bulawayo, Concession, Chinhoyi, Chegutu, Gweru, Lion's Den, Magunje, Masvingo, Mrehwa, Norton, Bak Storage and S&P Logistics, Harare."
The commodities trading platform said the warehouse receipt shall be issued in favour of the farmer or contractor, while government guaranteed schemes deliveries and issuance of warehouse receipts will only be done through GMB depots.
However, ZMX said each farmer or contractor will be required to open a commodities trading account with ZMX using the *727# USSD short code across all mobile networks, www.zmx.co.zw, or the ZMX mobile app, adding that farmers or contractors shall deliver the wheat to GMB or any of the designated warehouses where the commodity shall be weighed, graded and a warehouse receipt issued in favour of the farmer or contractor.
ZMX highlighted that trading of wheat shall be in full compliance with SI 188 of 2021 which specifies the terms and conditions for the trading of wheat.
Self-financed farmers and contractors may trade wheat at market prices and ZMX has the necessary infrastructure to support these trades.
The platform said those eligible to trade their wheat need to first obtain the necessary grain movement permits from GMB if they wish to take the wheat to warehouses other than GMB depots, open ZMX accounts and receive warehouse receipts.
"Holders of warehouse receipts will be able to deposit the warehouse receipts with any of the participating custodian banks who will facilitate trading on the ZMX exchange," the company said.
The ZMX was designed to curb warehousing and price discovery challenges relating to farmed commodities, which local farmers encounter in their operations.
The initiative also seeks to deal with challenges encountered by farmers in the marketing of their agricultural produce, which include limited and often costly logistics, inappropriate or inadequate storage facilities.
The problems resulted in farmers incurring significant post-harvest losses.
Follow us on Twitter @NewsDayZimbabwe
Related Topics