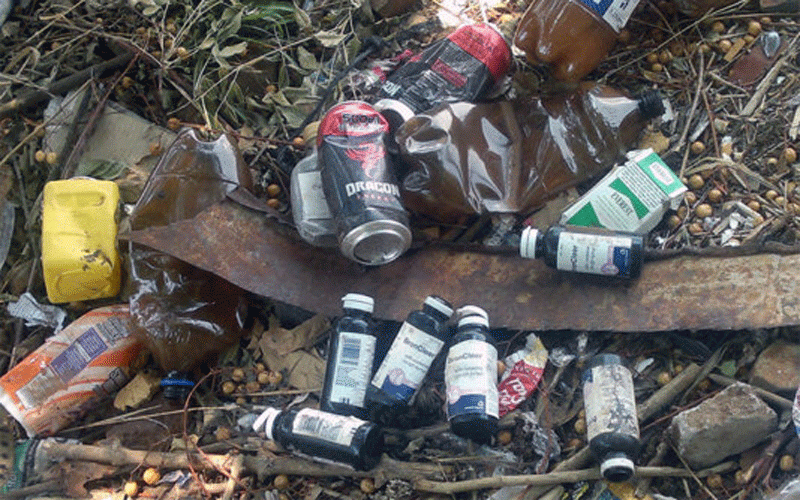 This week, the national owner flew off on a private jet to Malabo, Equatorial Guinea. The Scarfed One is in hot demand around the world, so every world leader has to wait their turn to see him.
It was the turn of Teodoro Obiang Nguema Mbasogo, owner of Equatorial Guinea, to host President Emmerson Mnangagwa. Arriving at the airport in Malabo, he may have been told that one plane is missing from the collection of aircraft owned by that country's alleged national airline. This is because the president's son, who was put in charge of the country's airports by his loving father, decided that the nation didn't need so many planes.
So, he sold one of the planes to some dealer in Spain, and proceeded to do what any self-respecting son of a country's owner does — pocketing the money. News that our owner is also travelling with his son is encouraging. We need him to learn these modern business practices of selling the nation's planes and eating the profits on behalf of the people.
City of the rich
Still in Malabo, Muckraker is fortunate to be among the lucky patriots who have visited Equatorial Guinea. It is a mecca of democracy and business, which is why one runs into Americans at every corner of the city.
You will hardly find a pothole in the city. It is clean and modern. Bored by living near too many poor people, the wealthy were a few years ago building a new city, Ciudad de la Paz.
All this is due to the hard work of Obiang and Sons, who run the country.
The president's son, by coincidence, is the vice president. The son continues to serve the country despite suffering misfortunes like having his mansions in Malibu and a Ferrari or two, being grabbed in the US.
Not to mention the time Swiss police took away 11 of his cars — among them a Bugatti, Lamborghinis, Ferraris, Bentleys and Rolls Royce — all for the flimsy excuse of corruption.
We, therefore, support this latest trip.
Our owners must see the clean city and realise that you can still build things for your country while eating.
You don't have to eat everything.
Leave some for optics.
Drug masterminds?
Back home, the country's alleged law enforcement authorities are trying to convince us that they are fighting against drugs.
It took the news of drug use at some private school for people to suddenly tell us that we have a drug crisis.
Now, every politician thinks they are Ronald Reagan, that random American cowboy actor who suddenly became president and decided fighting drugs means shooting at people.
But, just like in the Reagan years, we all know these "blitzes" are just for show.
The real culprits are too patriotic to be jailed over flimsy crimes like selling poison.
According to one report this week, the blitz saw police arrest a chap with "some marijuana in a small bottle, a 100ml bottle full of Broncleer and two other empty bottles of Broncleer".
It is clear, from this, that our police have nailed the big masterminds behind the drug pandemic. The streets are now safe.
What a relief.
Silly US$5m crime
Still on the law, the nation was shocked this week to hear that Mayor Justice Wadyajena had been set free.
We are shocked that the man was still being harassed by the courts for a silly crime like being allegedly responsible for stealing a mere US$5 million that could have benefitted poor cotton farmers.
Why that would be a crime anyway, nobody knows.
Luckily, we still have magistrates with common sense. According to the magistrate, the State had taken too long to investigate the case.
Said the magistrate: "The State had mentioned that they needed a month to complete investigations and they should have completed them in August and September last year but to this day there is no progress."
Six months is far too long for someone to wait for a trial.
We can't be arresting people without any evidence and then not trying them for months on end.
Unless, of course, they are members of the opposition.
Divided in lying
This week, after the ZEC chair, Justice Priscilla Chigumba, handed in a delimitation report to the President. We were told this was the final report.
Who are we to dispute what was reported by ZBC and Herald, which only publish the truth at all times?
Who are we not to listen to the words of George Charamba, the President's mouthpiece, who also said the same?
But, soon afterwards, Nick Mangwana told the nation: "Correction: We have noted a number of social media reports to the effect that the final delimitation report has been presented to HE the President. The final report has NOT yet been presented to His Excellency.
When that happens, the public will be informed, thank you."
Charamba then did a Karate backflip.
We can only appeal to our government mandarins. Please, talk to each other and decide which lie to tell.
Dancing criminally
After the hugely successful visit of the leader of mighty Belarus last week, we had another successful re-engagement engagement.
This was the ninth Meeting of the Joint Economic Committee of Iran and Zimbabwe.
Obviously, we heard that there will be deals worth millions of US dollars — and not patriotic dollars — signed between the two great nations.
Meeting the Iranian President in Tehran, our ambassador, Bright Kwimba, was quoted as saying Zimbabwe "appreciated Iran's progress despite widespread sanctions on the country".
This progress surely includes the case of a young couple in Iran, Astiyazh Haghighi, 21, and her fiancé, Amir Mohammad Ahmadi, 22, posted a video of themselves dancing in a square in Tehran. Iran's owners didn't like the video, so the two were arrested. This week, they were sentenced to 10 years in prison.
They were charged with "spreading corruption and vice". A good lesson to learn from our allies. That is the sort of corruption we arrest people for.
Choked democracy
The opposition Citizens Coalition for Change announced this week that it will not have primary elections to select candidates for the upcoming so-called election.
Instead of party members picking a candidate in a free election, as per usual, candidates would be selected via a new, magic formula.
A spokesperson for the party came out in the papers saying: "We are going to have a convergence where local people are going to choose their representatives.
We are going to call everybody who believes in the rules of the CCC, so that they select their suitable leaders through consensus.
The local leaders won't be imposed by external forces."
Many people obviously "believe in the rules of the CCC", even if the CCC itself doesn't know what those are.
We are sure that even Zanu PF officials will be free to also "converge" under the nearest tree and also select a CCC candidate.
After all, they are "citizens" too.
Call them CCC4ED.
Related Topics