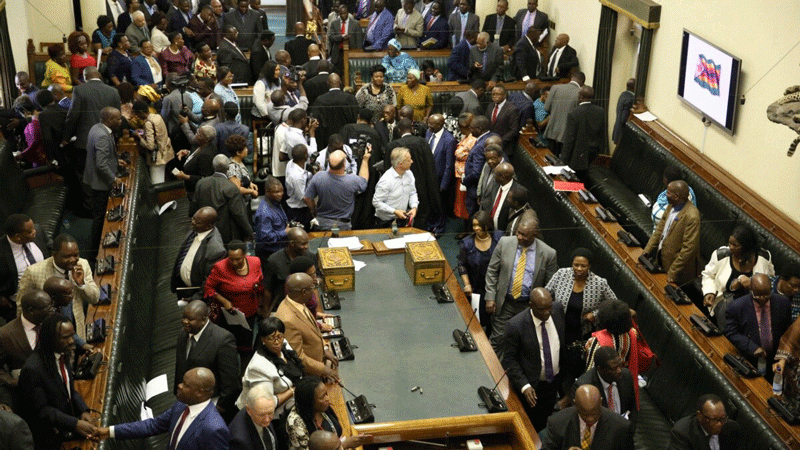 PARLIAMENTARY debates in the past two weeks have been primarily centred on MPs' welfare to the detriment of issues that are national like health, education, pension and public transport.
Once again, politicians exposed themselves as people who put the "I" ahead of the "we". They are self-centred and seek political office for self-aggrandisment.
This may seem too harsh a verdict on the people's representatives, but it is a sad reality. In the past three weeks, no MP held a feedback meeting in their constituency about the supplementary budget, the first since 2017 November coup that ushered in the current regime.
This is the same Parliament that has been largely mute on the two Financial Adjustment Bills before the House. They did not see anything wrong with government spending US$9,2 billion between 2015 and 2018 without Parliament's approval.
They further did not see anything wrong with the 2022 Financial Adjustment Bill that seeks condonation for the unauthorised expenditure of $107 billion in 2019 and 2020.
There are many reasons for this. Some of them include the calibre and technical competency of the elected representatives and secondly, most are in there for the numbers because they don't care about debating substantive issues except to interject and make sure their names have been recorded on the attendance register.
Let's turn to the issues that the MPs were raising. They spoke loudly about hotel accommodation during parliamentary sittings, fuel coupons, the sitting allowance, monthly salary, personal houses, parliamentary pension and second-hand duty-free vehicles.
This is a long list. And on those points, the MPs had a cross-party caucus to discuss and, if need be, hold the budget process to ransom. It was them or nothing.
To be fair, there were some few MPs, actually I can count them on my fingers, who raised issues about the people. These were Tendai Biti, Temba Mliswa, Edwin Mushoriwa, Innocent Gonese and Joseph Chinotimba. The Hansard bears witness to their contribution on the tax-free threshold.
The quintet fought tooth and nail to have Finance minister Mthuli Ncube move the tax-free threshold from $600 000 per annum to $900 000. They actually tried to have it reach $1 200 000.
What do these figures mean? Ncube wanted workers to have a tax-free salary of $50 000 per month. The MPs demanded that it be lifted to $100 000 per month. Ncube compromised and raised it to $75 000.
The MPs intelligibly argued that $50 000 in the inflationary environment was not worth much. They argued the tax-free threshold should be increased to the poverty datum line figure.
Not only did they want the tax-free threshold figure to go up, but they also had solutions to how the government could raise more revenue.
They argued that more disposable income among workers would spur economic activity as workers will be able to purchase goods and services and in the process government rakes in value-added tax.
The MPs also suggested that the government can increase revenue by taxing the big mining companies. Ncube, however, gave tax holidays to the miners under the impression of standing by the "open for business" policy of the regime, despite the damage it causes to the lives of the poor.
It is important that we should have a look at the important issues. These are health, education, pension and public transport.
Zimbabwe's health system is, once again, under the international gaze judging by a video of Limpopo Member of the Executive Council for Health, Phophi Ramathuba, which went viral after she complained about illegal immigrants stretching the provincial government's health budget and facilities. Zimbabwe has to do more on primary health care.
The country's education facilities are going south. The pass rate in public examinations are continuing to drop and those who pass cannot do simple arithmetic or speak or write correct English.
These are matters that need urgent attention, never mind performance in science and technology subjects.
These are serious matters which need urgent attention. There is no country that can develop without a healthy and educated population.
Zimbabwe's projected growth into an upper middle class economy by 2030 depends on these issues being attended to like yesterday.
The Zimbabwe pension system is as good as dead. Every retiree or pensioner cannot survive on the monthly payouts they receive. In some instances, the monthly pension pay-check is not enough for bus fare to withdraw it from a bank.
Most pensioners are trying to get a job to survive, while those who are due for retirement are seeking extensions of their contracts.
The situation is made worse when one considers that social safety nets are non-existent to the majority of the poor and vulnerable citizens.
It even gets scarier when one considers that Zimbabwe had a bad agricultural season and the World Food Programme estimates that about five million people will be food insecure by December.
And finally, the elephant in the room — poor public transport system. The supplementary budget did not speak to issues of improving public transport. It considered the current set-up as adequate and comfortable for the needs of commuters.
Interestingly, some countries like Germany this year experimented with 9-euro unlimited tickets for a month using regional train networks, trams and buses for the commuting public.
Even next door, South Africa has improved its public transport system with subsidised and timetabled trains and metro buses in towns. This is feasible.
In conclusion, it is a moment that the voting citizens should reflect on the calibre of people they are voting to be their representatives and what issues matter to them. There is no excuse for leaders who think public office is to develop their families. At least now we know them by their colours and being mute on issues that matter except their welfare.
Paidamoyo Muzulu is a journalist based in Harare. He writes here in his personal capacity.
Related Topics