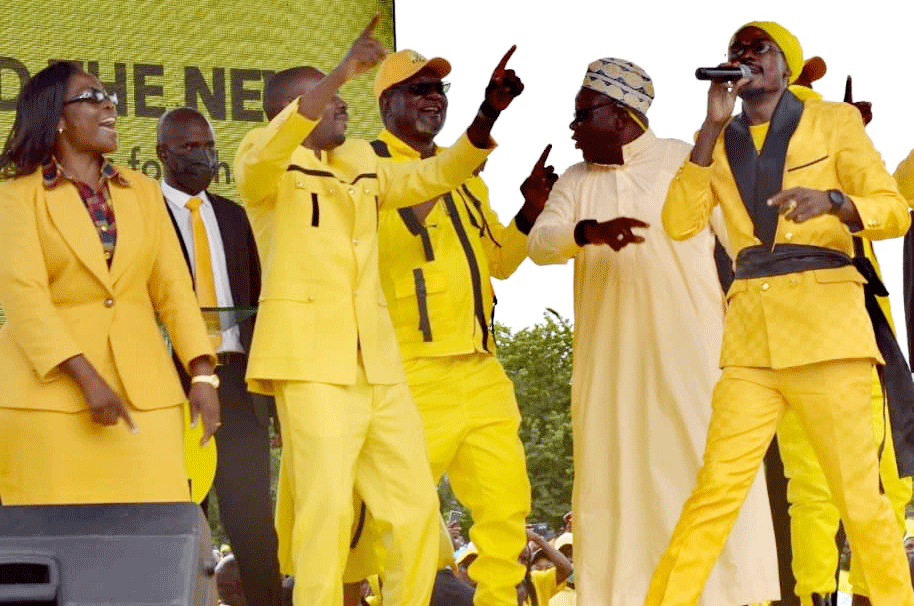 By Fred Zindi
Politicians have now realised the power of music in boosting their campaign rallies and are taking advantage of such situations to gain political mileage.
Recently, Nelson Chamisa of the Citizen Coalition for Change (CCC) and Douglas Mwonzora of the MDC Alliance have composed songs that their respective parties are using at their campaign rallies. Both party leaders have suddenly become musicians.
Chamisa, who was featured on Ricky Fire's song dubbed Kudya Yero did this song in order to celebrate the formation of the new party now associated with the colour yellow. Chamisa laces the chorus which speaks of defeating Zanu PF. He does not mention anyone by name in his song. The song was officially unveiled at a rally in Harare with Ricky Fire and Chamisa performing the song much to the delight of his supporters who had thronged Zimbabwe Grounds. The song was basically promoting Chamisa's CCC party to his supporters and did not speak negatively about anyone. Following the release of the song and putting his weight behind Chamisa, Ricky Fire claims to have received threats from a faceless social media character who called himself Nyatsimba Mutota and he sent him chilling messages warning him to leave politics alone.
The dancehall artiste took to his Facebook page to share a screenshot of messages threatening him after his association with Chamisa's party from the same person with the username Nyatsimba Mutota.
The message reads: "Cde, I'm giving you 24 hours to issue a press statement clarifying whether you are an artiste or a politician." Ricky Fire and his management were not moved by this threat. They said that they would do the same for Zanu PF if paid to do so.
I do not usually like to delve into politics as my knowledge of such is limited. It is only when politicians touch on the arts that I find it difficult to remain silent. The events of last week have forced me to comment on the pending  Zimbabwe by-elections to be held on March 26 and the pettiness of some campaigns  by political  stalwarts  with the hope of gaining political mileage around Zimbabwe.
There is nothing wrong in using music for political campaigns. Music possesses a unique power to inspire, motivate and energize a campaign. And music has been used in campaigns since the founding of our Zimbabwe. Even in the United States former president Barack Obama  in his 2008 campaign rallies, used Signed, Sealed, Delivered I'm Yours (written by  Stevie Wonder)  With this song and other campaign elements such  as "Yes we can" used, his campaign became a success story. However, music should not be used to mock others or to cause bloody fights among citizens. That is wrong.
Mwonzora, a senator representing the MDC-T and now the MDC- Alliance, is now claiming to be a musician and is supposed to have composed two "diss" songs aimed at his rivals, Tendai Biti and Elton Mangoma.
Recently in Bulawayo MDC Alliance supporters were treated to these songs. One of the songs mocks Mangoma and Biti, who once worked closely with Mwonzora at the MDC.
In the song, Mwonzora identifies Biti and Mangoma as sell outs, who betrayed Morgan Tsvangirai's legacy by joining the newly formed CCC.
Speaking at the Bulawayo rally, Mwonzora said he was also a musician, who had to take it upon himself to lead the campaign.
"I can also sing, that's why I had to lead the campaign from the front through song and dance," he said.
In my opinion Mwonzora has started his musicianship on the wrong note. In 2014, we spent a lot of time pleading with young artistes, particularly Zimdancehall artistes not to write songs which disparage fellow artistes or songs with vulgar lyrics, and we thought we had won the war. Now what is this? I remember the fights between Seh Calaz and the late Souljah Love which were both physical and verbal through 'diss' songs which ended up dividing their loyal music fans, the ghetto youths.
Music is no joke. It is a form of communication older than language. In a divided country such as Zimbabwe, music is a uniquely powerful force for alternately confronting injustice and bringing people together, expanding our capacity for empathy, for leading us to better ways of living together.
It is a vehicle for critical perspectives to be advanced, galvanizing movements, building communities, introducing new voices and ideas and speaking truth to power. But music can also be used to divide the people. If Biti and Mangoma were within the vicinity of Mwonzora's rally in Bulawayo, what do you think the youths loyal to Mwonzora's party would have done to them after being treated to that hate song?
Indeed, the relationship between music and politics is multifaceted. Music can contribute to political discourse by supporting the current political and ideological views. However, more often than not, music can be a disruptive form, that serves as a tool for changing existing political and social realities. Music can address certain political issues or re-interpret different social structures (for example, it can reveal different power balances in the society, offering alternative understandings of certain events, etc.) It can be used to cause havoc in society. And this is how Mwonzora decided to use his music.
When we conducted the campaign for the removal of negativity in Zimdancehall lyrics, my friend, the late Thomas Deve, reacted very strongly with these words: "No man, these youths must be guided. They need to be talked to. We must organise a seminar where we will teach them to appreciate real conscious music. We must give them the opportunity to listen to real lyrics. They are busy listening to the wrong music from Jamaica and adapting it to suit the ghetto youths of Zimbabwe.  The kind of stuff they write, busy dissing each other, is not on. How can we build unity in Zimbabwe when we write lyrics that are only good at dividing us?"
According to Section 61 of the constitution, every person has the right to freedom of expression. My interpretation of the clause is that musicians have the freedom of artistic expression and creativity. They can afford fair opportunity for the presentation of divergent views and dissenting opinions but if that freedom of expression starts to encourage people to hate one another, then that clause must be re-looked at. Mwonzora's songs must be re-looked at as they are encouraging people, especially the ghetto youths to hate their fellow citizens, in this case, Biti and Mangoma.
Such songs if recorded, should be banned on state media as they do nothing to build the Zimbabwe nation.
Look at Andy Brown. Before he died, he wrote the song , Nation of Thieves,. No one knows that song today because it was banned on state media. When he was later interviewed by Leo Hatugari, a journalist from the Daily News, Andy Brown said:
"I wrote that song to let the public know that Zimbabwe is now a nation of thieves. They have been stealing all the money, so as a result the whole infrastructure is beginning to fall apart," he said.
Music plays an important role in the political life of Zimbabwe.
At a critical and emotional moment like this one, some might suggest that focusing on the interests of the music community, especially their right to sing political songs, is a small and narrow area of concern.
But music is about so much more than celebrity, commerce, and entertainment as politicians have now realised.  Music affects our daily lives.
If my friend, Thomas Deve was still alive, I would urge him to go and give guidance to Douglas Mwonzora in order to straighten him on the writing of  unique lyrically positive songs. There is no need to write songs which negatively affect others when the idea behind any political campaign should be peace, love and harmony.
Related Topics