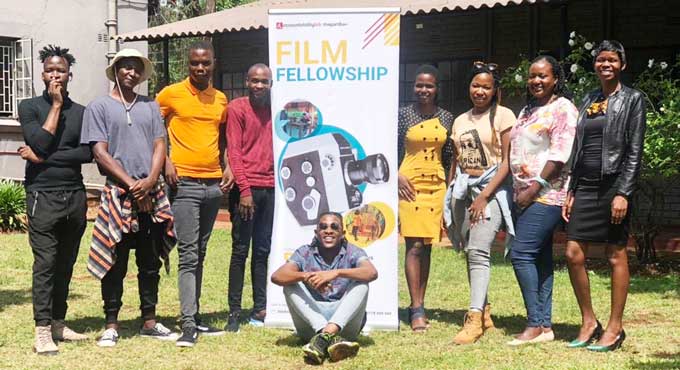 BY SHARON SIBINDI
Film Fellowship, an initiative of Accountability Lab Zimbabwe, in partnership with Magamba Network has embarked on a production titled #FilmFridayPodcast aimed at giving Zimbabweans a look into filmmaking, how film and social justice play hand-in-hand.
The Film Fellowship is a learning opportunity aimed at developing the next generation of impact filmmakers.
The fellowship gives young people aged between 18 and 35 years an opportunity to gain skills in filmmaking and storytelling and broaden their understanding of integrity and accountability.
During the fellowship, participants will work in both production and post production roles.
Film Fellowship programme project officer Dexter Fundire told Standard Style that #FilmFridayPodcast is a 45-minute look into the world of Zimbabwe's film industry and  they invite various players in the game to a talk shop.
"#FilmFridayPodcast is a weekly podcast where we invite Zimbabwean filmmakers to talk about their craft as well as give a look into how young people can be like them," Fundire said.
"Want to know how your favourite filmmaker / director /producer/ scriptwriter/ actor became who they are?
"Tune in as we ask all the questions of your favourite personalities you have always wanted answers to.
"The  aim is to give Zimbabweans a look into filmmaking and how film and social justice play hand in hand.
"We  noticed that a lot of people have this idea (justifiably) that filmmaking is only for the rich and well off. While that might be true we wanted to offer an alternative."
Fundire said they also wanted to inspire young people to use the medium of film as a tool to express themselves and bring about change.
"I produce the podcast under Magamba Network and Accountability Lab Zimbabwe," he said.
"We (the fellowship) are funded by USAid.
"It  offers a platform for filmmakers to express themselves whilst creating dialogue between the pinky and officials.
"This is countrywide and  will run for a year. After the programme, we help them find opportunities, be it working in the industry or getting funding for future projects.
"We target young people in marginalised/ lower socio economic groups who may not have had the opportunity to pursue film and train them in matters of social justice and accountability.
"We then give them practical film training throughout the year.
"After that we give them tools and minute financial backing to help them make a short film that enters around an issue in their community."
Fundire said some films are then shown at their festival dubbed Bokola Festival and shown across the country  with the hope of creating dialogue that brings about change..
"Our goal is to add new voices to the conversation on accountability and to  equip filmmakers with the theoretical and technical skills to tell compelling visual stories that stimulate and amplify change," he said.
Related Topics