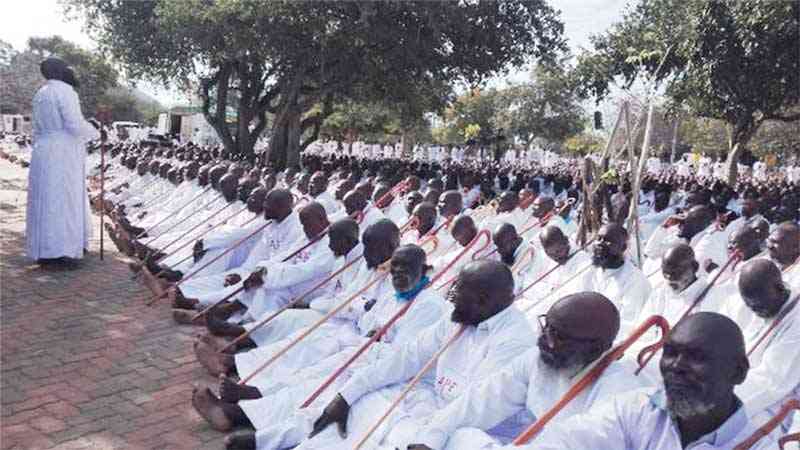 Tears of anguish and frustration strain the voice of 74- year-old Linda Mutetsiwa as she narrates her ordeal at the hands of harmful religious practices.
Hers is a tale of a cruel and selfish religion, one that does not spare the lives of its congregants. A religion that is self-serving, coupled with terms and conditions of not bowing to contemporary medicine and technology.
Most apostolic sects are characterised by patriarchy where men yield power over women. Women in these circles do not reserve the right to lead in religious practices and even in the home; they are expected to respect the demands of their husbands and fathers.
Worse off they are forbidden to use family planning methods and immunise children as this practice is termed unholy and a display of lack of faith.
Mutetsiwa, who is a strong believer from one of the apostolic sects in Mutasa district, Manicaland province, almost lost her teenage daughter due to pregnancy complications early this year.
"I am a follower of the Johanne Apostolic sect," Mutetsiwa said.
"All my children are married off and bore their offspring with no complications.
"Trouble began when my last born, who is mentally challenged, was sent off into marriage.
"She was married off to her sister's husband, I just heard through rumours and when I tried to protest I was met with staunch resistance though I was not happy with the conditions she was living under.
Mutetsiwa said she learnt that her daughter was pregnant after staying for seven months with her "husband".
"Her husband came with her at home amid fears that she could develop complications, but he lied under the guise of prayers," she said.
"I stayed with my daughter till one day all hell broke loose.
"She could barely walk as she was visibly in pain.
"One of my husband's wives offered to help her deliver until I saw that the situation had escalated when the embryonic fluid protecting the baby burst finally was bold enough to take my daughter to the hospital despite resistance from my husband and his other wives."
Luckily, they managed to get her to Bonda Mission Hospital in time to save the mother though unfortunately the baby did not make it.
Mutetsiwa has now been chucked out of the church and her husband, an ardent and loyal follower of the sect, believes his wife and daughter need to be cleansed for their interaction with modern medicine.
"My marriage from that point has never been peaceful," she said.
"However, I am glad that some of my husband's wives have seen the light and even though they don't openly say it out of fear, they secretly come to commend me on the boldness that I displayed when I took my daughter to the hospital that fateful evening.
"Most of the teenage daughters in my husband's compound have succumbed to early child marriages, a scenario that would have been avoided if my church had been so accommodating to modern technology."
Mutetsiwa said her husband had suggested that the daughter must be married off again despite the severe conditions she suffered during child birth.
Dorothy Machingauta, an elderly religious midwife within the apostolic sect in Marange was against the use of scientifically proven medicine.
"I am a healer in the Johanne Marange apostolic sect," she said.
"We pray for people that are not well and we use water, our hands and a praying stick which we dip in water and use to pray for people.
"Through these acts, diseases are healed and some are delivered from the bondage of evil spirits.
"Some of the things I would have failed to pray for, I pass on to the elders of the church with greater gifts .For those who are pregnant, and we help them deliver."
Machingauta added: "We religiously follow protocols required to deal with diseases affecting children such as measles.
"We are not allowed to take children for vaccination unless they are immunized under government programmes at school, of which they would have to be cleansed."
Machingauta said the church believed in wholesome spirituality that allowed it to detect problems on a spiritual level and her job as a midwife was to help young and old women deliver in the ways approved by the church of which if they developed complications she would pass the case to someone more spiritually inclined.
"We do not refer pregnancy complications to the clinic and we believe that most of the diseases are caused by evil spirits. In my time as a healer within the church, so far I have not met cases where pregnant mothers have passed on due to complications," she said.
However, Standard Style established that a number of women in the apostolic sects were "Nicodemously" assessing sexual and reproductive services from health centres.
They visit the local clinic without the knowledge of their husbands, church and spiritual guardians, said Sakupwanya Clinic's sister-in-charge., Patience Chindondondo.
"There is still a lot of work that needs to be done regarding the apostolic sects," Chindondondo said.
"They are very resistant to change and by the time they canvass for help they would have been through a series of misfortunate events of losing a child.
"However, some of them are waking up to reality; they come looking for sexual and reproductive services, including collecting contraceptives pills.
"The ones who are resistant are the older ones and those that lack significant knowledge."
Chindondondo urged government and its development partners such as the Voluntary Services Overseas (VSO) to incorporate members of the apostolic sects in sexual and reproductive health rights programmes.
VSO's Speak it Loud Campaign lead Christon Zimbizi said they were concerned the high prevalence of child and early marriages among the apostolic sects.
"These practices about constitute a serious violation of the rights of young girls in these churches who should be in school and enjoying their childhood instead of starting marriages and giving birth," Zimbizi said.
"We are happy that the new marriage law clearly outlaws the marriage of children under the age of 18.
"This is a progressive step and we hope that the law will be enforced and it is also concerning that the same churches do not allow congregants to access modern and proven medicine, which can be lifesaving.
"This is even more worrying when they deny children access to health care resulting in the suffering of the children and in many cases deaths.
"We call upon the authorities to intervene in the best interests of the children."
Zimbabwe is one of the countries Sub-Sharan Africa with a high prevalence of early child marriages and according to the Zimbabwe National Statistics Agency, 33,7% of girls aged under 18 are married, which translates to one in three girls under 18 are married.
In 2020, the story of a 14-year-old girl, who died while giving birth at an apostolic sect shrine in Marange sparked outrage across the globe with human rights experts and women organisations expressing anger at how the religious sects were abusing the rights of young girls.
Her husband, an old Marange man Hatirarami Momberume was arrested, but was later released under unclear circumstances, a situation which further infuriated the public.
Child marriages remain a challenge with at least five countries in the Sadc region having 40% of children married before they are 18 years of age.
Related Topics