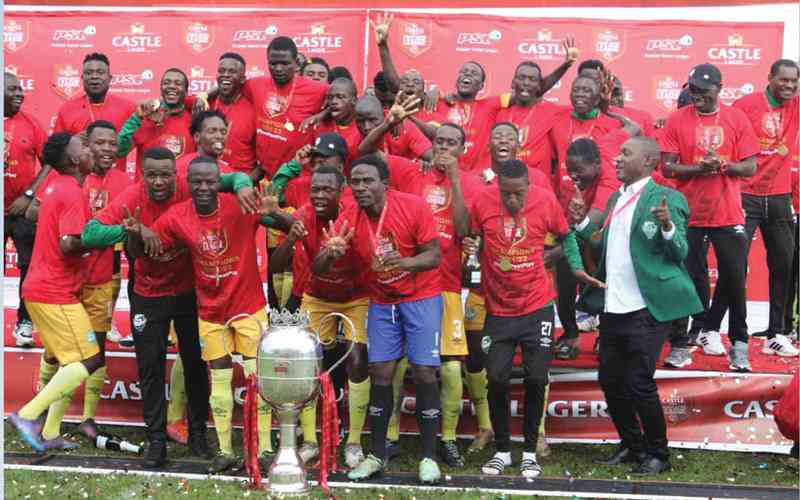 FC PLATINUM...................... (2) 3
CRANEBORNE BULLETS..... (0) 0
CHAMPIONS FC Platinum celebrated their fourth successive Castle Lager Premier Soccer League title in style with an impressive 3-0 triumph over Cranborne Bullets at Mandava stadium yesterday.
Having sealed this season's championship with three games to spare, FC Platinum came into this one just needing a victory to spice up their home celebrations.
And they deservedly achieved it by making light work of the army side with a convincing win that was inspired by goals from Walter Musona, Thandolwenkosi Ngwenya and Panashe Mutimbanyoka.
This is their fourth league title on the trot and their third under veteran coach Norman Mapeza.
Yesterday's coronation was however more special as it was the first time at their Mandava fortress.
An elated Mapeza was on cloud nine as he paid tribute to his charges.
"For the club, this is their fourth one, but personally this is my third with the club. We did well and this is a special one, different from the two I presided on," said the former Galatasaray defender.
"What makes this special is the fact that this season, we had rookies not the seasoned players we had in the other seasons. We were on top of the game despite all the minor setbacks.
"We did well and we pushed until the end. All in all I sum it up as my best season. We did everything that was needed although we faced serious competition from all teams.
"The boys showed character. They rose above waters to achieve this because at the start, we parted ways with players and a lot was also said."
FC Platinum ended the season with 75 points.
They will begin next season on a 21-match unbeaten run record in the league. They last lost a league match on April 30 when they went down 1-0 to Herentals at the National Sports Stadium.
Cranborne Bullets gaffer Nesbert Saruchera congratulated Mapeza and his arsenal.
"They did well. They really deserved it and we congratulate them but next season we will also be in the mix," he said
"This match was good, I'm happy that we managed to compete, but our defending was poor. We could have avoided the first two goals."
Musona thrust the Champions ahead after 11 minutes when he benefited from a brilliant interplay between Mutimbanyoka and Ngwenya before he tapped the ball home with ease.
The former Polokwane City ace, who was chasing the golden boot came close 20 minutes later, when his diving header missed the target from close range.
Ngwenya doubled the scores on the 35th minute, when he tapped the ball home from a low cross whipped in by Mutimbanyoka.
Cranborne Bullets had a rather cagey first half, as they spent the first stanza without creating a single clear-cut chance.
Mutimbanyoka made it three on the 56th minute after a brilliant solo move as he weaved past three defenders and goalie Herbert Rusawo before poking the ball into empty nets.
Teams
FC Platinum: W Magalane, L Mhlanga, G Bello, W Stima, K Mangiza, J Mutudza, R Pavari, B Moyo (I Mucheneka 85'), P Mutimbanyoka, W Musona, T Ngwenya (O Bhebhe 83').
Cranborne Bullets: H Rusawo, D Chinanga, P Mutasa, L Zvasiya, D Mbewe, C Nyakope, M Mudzuka, T Chibunyu, J Selemani, K Mureremba, B Muzondiwa (Y Machembedze 63').
Related Topics