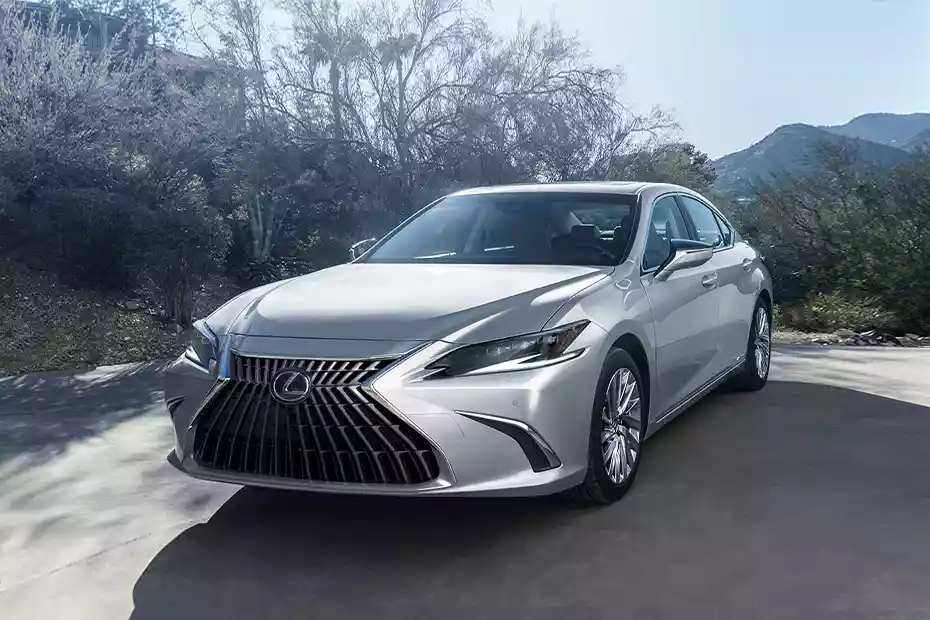 Recently, I got acquainted with the Lexus ES 300h SE.
The majority of car connoisseurs concur that Lexus knows how to build a quality car. I have been consistently amazed by the level of refinement and elegance offered by these Japanese saloons ever since I had the chance to drive the very first Lexus models many years ago. I experienced a feeling of occasion every time I slid behind the wheel of a vehicle made by the Japanese carmaker.
Bold fashion
Most readers probably already know that Toyota's luxury car division is called Lexus. Because of the vast target market Toyota has around the world, the parent company's saloon cars are not known for their exceptionally daring style. It appears that designers can use their creative muscles at Lexus.
The ES line from Lexus continues the brand's tradition of daring style. The new ES differentiates itself from its competitors with features like the three-dimensional "spindle" grille on the front, katana-slash headlights, and an arched roofline. Those headlamps, as well as the taillamps and all-LED turn signals, employ triple LED technology. The turbine-style alloy wheels and the boot spoiler distinguish the ES 300 h from its brothers and give it a sportier look.
A lounge-like setting
I think no one out there makes beautiful car interiors like Lexus and Audi. Audi nails dashboards. They are the best in the business. The Lexus ES 300h's cabin is a complete sensory delight to enter. The comfortable front chairs are upholstered in soft-feel leather and include heating and cooling features, which are very useful in Cape winters. A heater is also incorporated into the steering wheel. The eye-catching metallic olive-green exterior contrasts with the cashew-coloured seating. The leather is complemented by light-coloured, untreated wood trim, giving off the calming impression that you are inside a Japanese day spa.
Numerous hi-tech modern conveniences are included in addition to these amenities. A brand-new, 12.3" widescreen display with exceptional resolution commands centre stage on the facia. More than 100 mm of the screen has been moved forward, and it now has touch-display capabilities. For increased convenience, there is a haptic track-pad located between the front seats. For quick access to frequently used features, Lexus designers have also included a plethora of physical buttons on the lower half of the facia.
The ES has a reputation for providing comfortable seating for rear passengers, and the new model upholds this standard while also sporting a more streamlined, sloping roof line.
The Lexus ES has a large interior thanks to its long wheelbase. No matter how much legroom they need, both front and back seat passengers can spread out.
Packed with features
The Lexus ES 300h is loaded with features; they are all standard equipment at this level, including heated/cooled electric seats, a sunroof, privacy shades on the back windows, a wireless phone charger, radar-based cruise control, front and rear cameras, auto wipers and lights, satellite navigation, touchless entry, etc. On this variant, the only option available to a potential buyer is the colour.
The 17-speaker Mark Levinson Hi-fi system was one of the cabin experience's highlights.
Whatever music you want, this system is quite soothing to the ears. After each trip, I would linger in the cabin for a few extra minutes to let the current song conclude thanks to the warm vocal tones, clear instrument reproduction, and strong bass notes.
On the highway
This hybrid ES makes no noise at all after "start-up," which is fantastic. Electric power is always used to launch the ship. When the battery pack starts to deplete or you need more power with your right foot, the 2,5-litre gasoline engine comes up. The ES 300h is so laid-back that I spent the majority of my time driving in the slow lane. Driving in a low-noise environment is quite relaxing. The 4,6 L/100 km fuel usage number provided by Lexus is rather optimistic and will call for very light footing to match.
I hardly ever used the Sport, Normal, or Eco driving modes, even though the ES 300 h offers three of them. In a car like this, I believe that sport mode is a complete waste of time. It scarcely disturbed us to switch to the environment mode because the transition from electric to gasoline and between electric and gasoline power was so seamless.
Easy sailing
The riding quality is superior to the engine's ability to provide power. A gentle and comfortable ride is guaranteed by adjustable dampers and all independent suspension. This car simply floats about, unconcerned with the state of the roads, and it does not like being pushed around. The target audience will be grateful that there are no sporting aspirations here.
My decision
The calibre of Lexus saloons was the subject of my introductory remark. The Lexus ES 300h only confirms our perception of other Lexus cars. It embodies the qualities that make Lexus such a well-known and admired brand globally. It's not surprising that the ES is Lexus' most well-liked sedan. Since its debut, more than 2,3 million pieces have been sold worldwide.
I believe that local brand loyalty is the reason for Lexus' relatively low market share. I assume that there would be a lot more Lexus cars on our roads if people did their research and tested out every model in this price bracket, even if they were grey imports since there is no Lexus dealership.
Related Topics