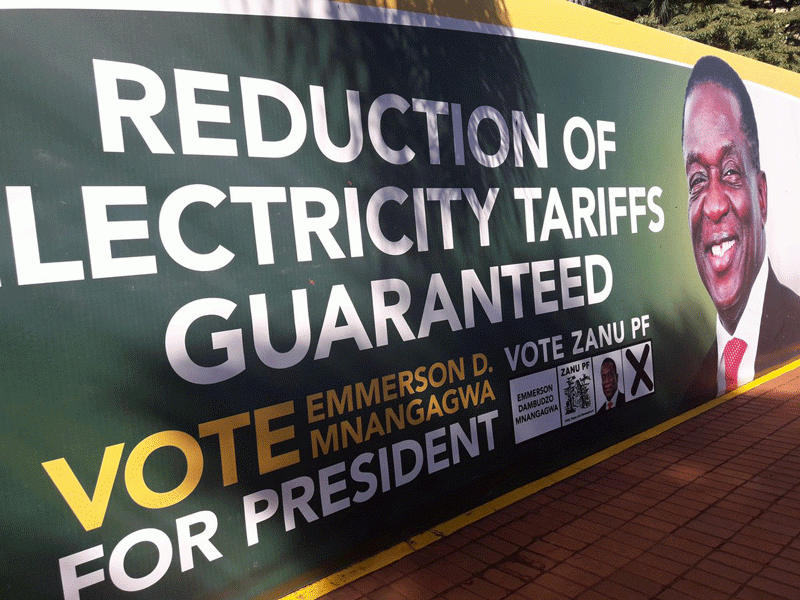 As the nation this week once again celebrated massive power cuts, the result of growing economic activity, Muckraker went back to read the Zanu PF manifesto from the last alleged election.
The country would be producing over 2 500MW by the time the next supposed election happens, we were promised. This included solar projects and so forth. This must be going well, since we also saw this week our finest solar investor, Wicknell Chivayo, bragging after buying himself another luxury car.
Zanu PF also told us that investors would come in to produce "solar, hydro, wind and biogas". Well , in terms of wind energy, so far so good. A lot of hot air continues to be churned out from government offices. As for biogas, which is creating energy from compost, there is a lot of rotting material at Zanu PF headquarters that can be useful.
Zanu PF also promised that it "will ensure the provision of electricity to all rural areas in order to bring development to all corners of Zimbabwe". Well, clearly that was a typo in the manifesto. What our revolutionary party meant to say was that we would bring rural areas to all corners of Zimbabwe.
More investors
Following a successful annual retreat in New York, where African leaders fly on luxury jets to go plead poverty, the country's owner returned with good news this week.
The country will soon be overrun by American investors, he told the nation.
"The group of investors, they were really big boys in the American economy, most of them are very anxious to come to Zimbabwe and invest. They run various funds and the biggest fund was a Mr Davies who runs a US$222 billion fund at his disposal which he wants to come to Zimbabwe with and invest," President Mnangagwa told reporters in his traditional airport interview.
The news was met with massive celebrations across the land.
Finally, after many similar promises of billions in investment over the past five years, we will now have billions in investment.
This time it's for real.
More importantly, all along, in fact as far back as just last week, we were told that we were under sanctions.
Now that American companies are jamming our borders rushing in to invest, it is clear that sanctions have finally been lifted. We didn't pay those American lobbyists for nothing after all.
Show time
Meanwhile, still in New York, the nation was informed this week that the entire American city had come to a standstill in honour of our owner's owner, the First Lady.
According to the Herald, which we all know only reports the truth: "Lady Dr Auxillia Mnangagwa on Thursday shone like a beacon as the only First Lady to be invited to the exclusive Met Gala Cocktail by the Mayor of New York, Eric Adams, in recognition of her philanthropic works that have captured the world's imagination."
The Herald explained further, saying: "The invitation was a great honour and a first-of-its-kind for Zimbabwe, as no First Lady had ever been invited to the exclusive event since the attainment of Independence in 1980."
Well, detractors will be quick to mention to the excited Herald reporter that this was not the Met Gala. The real Met Gala – held each year at the Metropolitan Museum in Manhattan – was in fact held in May. But this means that the Herald is right to describe it as a "first of its kind" invitation. As far as we know, this is the first time a First Lady has attended an event that already happened.
Catch and release
This week saw the arrest of Mike Chimombe, whose entrepreneurship is so widely respected that nobody knows what he actually does.
He and a few fellow hard workers are accused of selling a residential stand to Brian Marungamise, even though the land belonged to someone else.
"It is alleged that Marungamise paid US$16 900 to the trio, but when he wanted to develop the property, someone came and claimed ownership of the land. In a bid to give Marungamise a stand worth what he had paid, the accused allegedly allocated him another residential stand in Waterfalls before it was again claimed by another person."
Why anyone would be arrested for this standard working procedure is beyond us
Selling stands to multiple people and spending the money at the club is what is known as entrepreneurship in Zanu PF. No wonder he quickly got bail.
Chimombe may have recently fallen out with his mentor, the "flamboyant businessman", but no doubt he learnt a lot from the master.
Meeting of sleepers
Muckraker was left puzzled this week after Cabinet Secretary Misheck Sibanda wrote a letter to ministers telling them of the postponement of their weekly snooze-fest, the Cabinet meeting.
He wrote: "The Chief Secretary to the President and Cabinet would like to advise Cabinet members that the next Cabinet meeting will be held on Thursday, 29th September 2022 at the same venue. All members are required to undertake the necessary preparatory processes ahead of the Meeting and be seated by 13.45 hours."
The nation will not be surprised if, next time, he uses other methods of sending messages, such as beating drums, sending courier pigeons, or even sending out smoke signals from the top of Munhumutapa Building.
No wonder why archeologists are rushing to Zimbabwe from all around the world to find fossils.
Troubled party
T
alking of fossils from prehistoric times, Didymus Mutasa was in the news this week, obviously much to his delight. The man was once untouchable, before thankfully he was sent out to waste away far from the feeding trough. He has now emerged to warn his party that it risks losing elections.
"I am not talking about Manicaland province, but the whole country. The party is in trouble, leaders in the party should work hard — hear me correctly, I am saying all the leaders," Mutasa said.
Given his record, what Mutasa means by "working hard" means a lot different from what it does to ordinary plebeians. To him, it may or not mean a few disappearances here and there, and more than a few burnt huts, preferably with children in them.
CCC, Zanu PF = 6 and 9
At the weekend, a senior member of the opposition Citizens Coalition for Change party posted pictures of himself and other party members busy at work in a pfumvudza plot.
"We continue to help underprivileged members of our village communities in Mhondoro Mubaira and Mhondoro Ngezi. We are also offering technical assistance to increase the yield per ha from the average 0,5 tonnes per ha to 10 tonnes per ha," the post said.
Of course, keyboard cyber warriors howled in protest, accusing CCC officials of acting like Zanu PF. Zanu PF supporters mocked the move, saying it validates their policies. Well, let us be fair. Opposition councilors and MPs already share a love for stands and fat allowances with Zanu PF colleagues.
What's new about stealing ideas from each other?
Related Topics