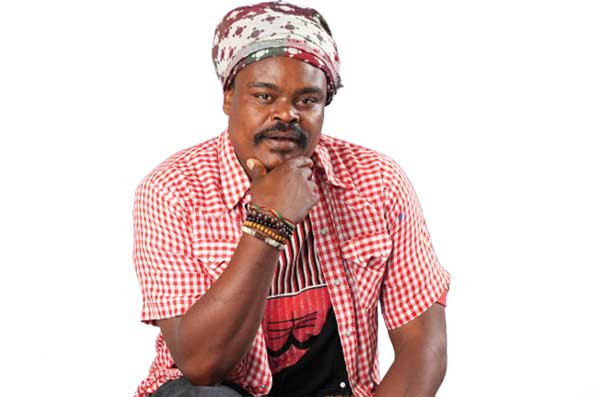 BY SINDISO DUBE CONTROVERSIAL Controversial artist Rasta the painter says people, who have labelled him and described him as someone who can't paint don't understand art.
Rasta, a Zimbabwean now based in South Africa, born  Lebani Sirenji has been criticised for painting portraits of dead celebrities and some of his work gets many social media users angry and lambast him for doing a portrait, which doesn't resemble the late figures.
Recently he was in Bulawayo to honour the late arts doyen, Cont Mhlanga and presented a portrait  of Mhlanga to Gcina Mhlanga, Cont's daughter at a memorial service held for the artist in Bulawayo.
Other departed figures that have been painted by Rasta are Nelson Mandela, Winnie Madikizela-Mandela, hip-hop stars Jabulani 'HHP' Tsambo, Oliver Mtukudzi, Robert Mugabe and Linda 'Pro Kid' Mkhize.
"They can say Rasta can't paint but they are just critics from Twitter, who are helping me so much by talking about me. It's like when you kick a frog you make it go further. I don't mind critics.  "Art is subjective, my art is so controversial and very twisty. Those who say I can't paint don't understand art," said Rasta, the painter.
"My paintings are more than just visual art."
"It's a movement, which moves one's mind to have faith and hope in life."People have mixed feelings over my art because art is done in different ways and many of the pictures that have found their way onto social media are pictures of half-done portraits.
"People criticise me before the final product, which will excite them is not yet out.
"The people on Twitter have no mercy and are too quick to judge, they don't know my goals. Even a soccer player may falter and get booed, but come back stronger in the next match."
Rasta has featured in Chicken Licken TV commercials and his art has been featured in TV series such as Black Door.
"The chicken Licken advert I can simply say it's my content because I am the only one who didn't audition for that advert. I have also been invited by many corporates such as Chibuku. I have also been shooting for the Gomora telenovela, I have also been doing wall paintings. I also have paintings on Black Door, a new series on television," he said.
Quized how much his most expensive portrait fetches, he responded…
"My paintings differ with the picture, colours and size and how detailed the painting is. But I can assure you that from R10 000 rands you can get a portrait. That's my starting price tag, I have sold some for R40 000 and the most expensive price tag I have put is R120 000 for the portraits of the late Robert Mugabe and Joseph Tshabalala. My pricing also depends on the client as well, for people like Patrice Motsepe I can even sell for R1 million," he said with a laugh.
Rasta was born and bred in Bulawayo in the high-density suburb of Pumula East to a Mozambican mother and a Zimbabwean father.
He completed his education at Magwegwe Secondary School in 1994 before crossing the Limpopo River.
"I have been painting for the past 25 years as a professional, but I started when I was in primary school where I used to do wrestlers' sketches and sold them to fellow pupils for as little as 5 cents.
"After moving to Mzansi I was employed at a restaurant in Sandton and then, from there, I was, like, sketching all the time when I got free time,"Rasta said."I then did a painting of my boss who pumped words of encouragement for me to take art seriously, which led me to quit my job and I took up art-full time in 2002.
"During my visit in Bulawayo I met a number of artists and encouraged them to keep pushing and practising more.
"I am looking forward to doing more in mentoring local artists here in Zimbabwe."
Related Topics