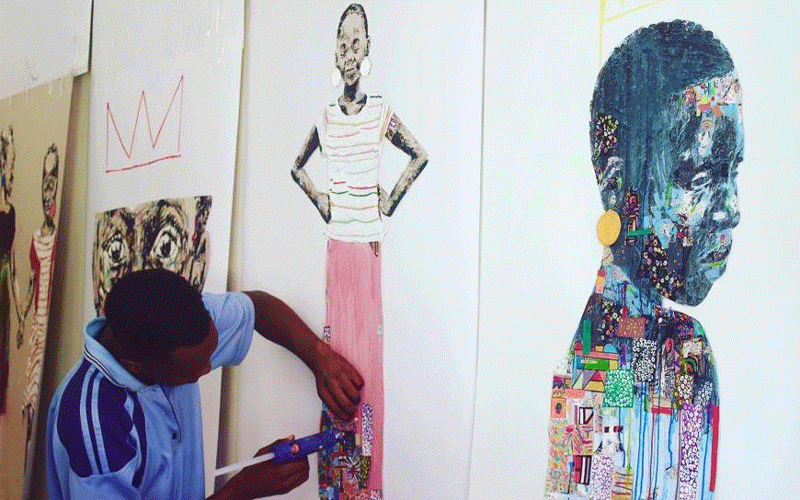 Emerging Gwanda visual artist Zibusiso Tshuma has launched his latest solo exhibition titled It's the Little Things that Matter inspired by a statement from one of his high school teachers which made him realise how much little things that are taken for granted, contribute to the social structure.
His first solo exhibition was launched at The Alliance Française De Bulawayo and started running on March 10 and ends on May 6. This will see the 24-year-old exhibit 15 art works.
"It's the Little Things that Matter serves as the corner stone in the research of the exhibition when creating my body of work," Tshuma said.
"It was inspired by my high school teacher who used to say: 'take care of the little things and the bigger things will take care of themselves', so that became the foundation of the research in my work for the exhibition.
"The little things are the values we are taught at home, metaphorically they are also the kids that I portray in my work and the little details that make up the bigger picture of the artwork," he said.
Tshuma said he hopes the exhibition opens more opportunities and avenues for him.
"This has been a unique experience as I have been preparing for this exhibition for months," he said.
"I am also expecting this to open more opportunities.
"It's my first time doing a solo exhibition and this is amazing.
"The funders are Alliance Française De Bulawayo, they discovered me on a group exhibition that was done at the National Gallery Zimbabwe in Bulawayo last year after an outreach programme the gallery did.
"The programme was also funded by Alliance Française."
His exhibition is the first solo exhibition to be conducted at the Alliance Française De Bulawayo as they usually host group exhibitions.
Related Topics