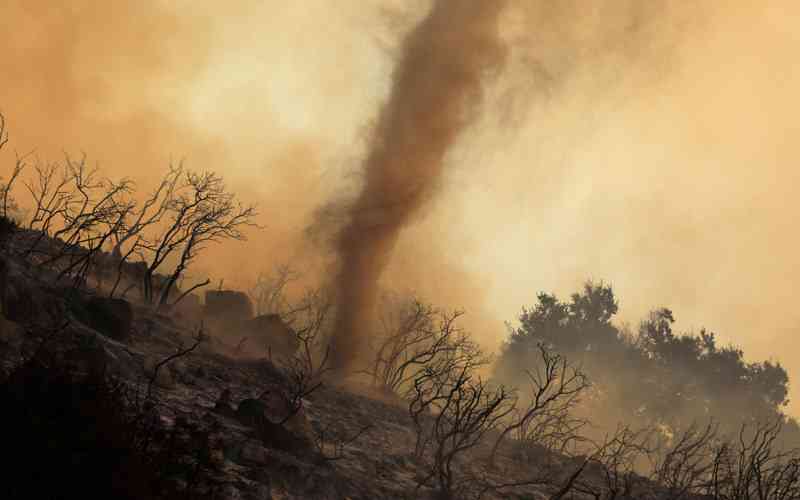 ART and arts-based practices remain of importance as they are very powerful ways that can enhance the development of a connection which orients to the issues of climate change.
The power of creativity is something that has the potency to expand the futuristic imaginaries which open up the minds to the new scenarios of change.
Climate change refers to long term shifts in temperatures and weather patterns. In Zimbabwe, climate change has affected rainfall patterns and induced droughts as well as natural disasters such as cyclones.
Communities, therefore, need to be taught about the effects of climate change in an easily understandable manner. This can be done through incorporating the arts sector to produce works of art that use easy formats to teach people about climate change.
Art has a deep potential in the contribution to transform society as well as the capacity to inspire the feelings of hope, responsibility, and care. Artistic practices can contribute to the creation of the openness towards more than human worlds which can provide different sources of emotional and sensual experiences.
Art has the capacity to raise awareness, to engage creativity for addressing complex problems, and may also support transformation to sustainability.
Art can be a powerful tool for communication. It has been identified as an effective means of communication to raise awareness with the help of music, poetry video work, documentaries, infography, illustrations and comics about climate change impacts and adaptation strategies.
Art has a visual engagement as this can be substantiated by how a picture tells a story. It enriches the narrative and this extends its reach and hence is used as the most instrumental way in the communication of climate change in a more attractive and also potentially serious and understandable way. Artists have the mandate to engage in collaborations where the art can be used to communicate about climate change.
This use of art is important to provide more aesthetic, attractive, and easily accessible ways of communicating the complexities of climate change to broad audiences.
Participatory art has the potential to bring together people from different sectors and contexts, supporting dialogue and the creation of networks among artistes, scientists, and society. Such arts-based practices can facilitate dialogue, which can then lead to the cultivation of deeper understanding.
Creativity, inspiration, and positive stories are powerful means to explore practical solutions for addressing climate change. Art can help facilitate a creative engagement with the topic and the expression of new insights in learning of a participatory process.
It is of note and importance that projects which involve art and the artists have the capability to capture the complex processes and the problems as they have the ability to mirror the unfolding nature of social life which becomes the driver of the interactive process.
There is need for such projects even within the context of Zimbabwe. They may be conducted to engage communities in climate change edutainment which is premised on art and creative processes.
When using art in the facilitation of dialogue, it can be through the expressive nature of art as it is engaging. Art has a potentially playful nature. This can be of use in bridging and integrating opposing interests and also different forms of knowledge.
Edutainment projects on climate change should be participatory, experiential, community engaging, process and also goal oriented. These can be processes that can be able to tap into the creative potential of all participants and the reduction of bureaucratic and also hierarchical ways of thinking and knowing.
Community edutainment initiatives have the potential to build a community, which might be an important pre-requisite for social transform.
Art, through its edutaining effect is something that can also play a role in operating on a profound and transformative level. It can be a process that can enhance the engagement of people with climate change on a level which will be engraved in a deep emotional and also personal level.
Art can be emotionally and politically evocative, captivating, aesthetically powerful, and moving hence making it an effective tool for the promotion of climate change awareness.
For example, a theatre piece can be produced which can highlight the experience of forest fires which can in the process communicate aspects of life which are emotional where they can connect with the audience, evoking compassion, empathy, coupled with understanding and meaning.
This example would also need the artists to have inclusion of ethical, affective and also aesthetic knowledge, which have an effect on the ways value is assigned to certain aspects of life.
A piece of visual art, for example, can be interpreted in many different ways depending on the viewer as well as the context of viewing.
Another way of creating meaning is through stories. As a musician and poet, story telling for me is an important element as there is the need for creation of more awareness and using the power of stories. I am of the belief that storytelling and writing are fundamental parts of human life.
In the context of Africa we tell stories to give meaning to our lives. Stories can make us feel connected, open our eyes to new perspectives, stimulate self-awareness or social reflection.
Through fictional writings, we can express ourselves freely, reveal the inner lives of characters, and create believable worlds for the readers to enter. These can also be of help in the actualisation of effective climate change advocacy
Dance and theater, as particularly embodied practices, can incorporate words and narratives. When we understand the body as having meaning in itself, as opposed to a container where meaning is stored, we can use it as a means to pose questions, connect with emotions.
This way, dance and movement can challenge norms that are embodied and rendered invisible. It can be argued that it is through the body that we can see and experience differently. Dance has a transcendent, transformative potential.
Using art as a tool that guides us through a meaning-making and embodied experience is arguably a transformative process that can enable us to see and act differently on teaching communities about climate change issues.
Raymond Millagre Langa is a musician, poet, orator and independent researcher. He is also the founder of Indebo Edutainment Trust. Follow Raymond Millagre Langa @Millagre Ray Langa on Facebook, @Millagre Langa on twitter and email [email protected] or [email protected]
Related Topics