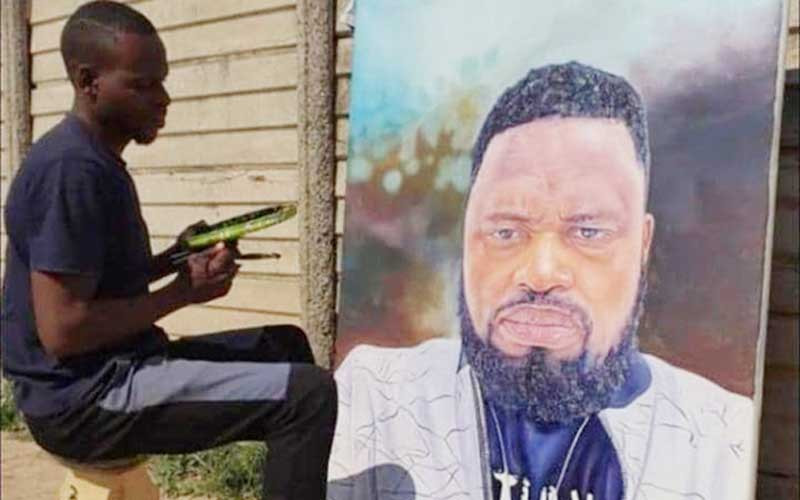 One of Zimbabwe's finest visual artist Keith Zenda says his art is greatly inspired by painting general lifestyles of people as well as his own surroundings.
The name Keith Zenda is very synonymous with artistic portraits including those of celebrated Zimbabwean public figures, including Nash Paints chairman Tinashe Mutarisi, sungura maestro Alick Macheso as well as Youth, Sports, Arts and Recreation deputy minister Tino Machakaire, among others.
The Gweru-based artist discovered his talent at the tender age of six and has been working fulltime as an artist since 2003. He is a self-taught artist.
"I used to draw in primary school, just doing drawings and classroom chats and where I learnt there was no arts class. I came from a rural lifestyle and there was no exposure to any art," said Zenda.
The Chirumanzu-born artist says it is only upon landing in Gweru that he then started painting about his lifestyle.
"I then started to paint about my lifestyle, the people at the growth point and what happens in our daily lives. That is what inspires me most,"he said.
Zenda says as part of his growth and diversification, he has now moved to a form of art he calls 'mixed medium".
"On this mixed medium, I'm telling a story of how this wasted material like the pots and the kitchen wares are thrown away after being used. They were once brand new and it signifies the women's life, how they get abused after falling in love and getting into relationships and then they are dumped. It's also about empowering women how they can start afresh and there is no need to give up on life, you can still be renewed," he said.
Zenda added: "I take art as creating and not limiting my imaginations and there is no excuse as an artist to say I don't have material because we are always surrounded by material. That's why I started new medium of using these thrown away gadgets and kitchen wares and putting them into my art and making a difference in the contemporary world of arts".
Zenda who was speaking on the side lines of a media briefing conducted by Nhaka Arts Gallery in preparation for the Helen Lieros Arts Legacy Celebration and Nhaka Gallery launch last week also paid tribute to the late Derek Huggins and Helen Lieros for mentoring him and shaping his art.
One of the mentees and beneficiaries of Helen Lieros, Helen Matsvise who is part of the organisers of the Helen Lieros Arts Legacy celebration said her mother had named her after Helen Lieros and she had been pursuing art through the Women's Gallery which she founded whilst in Cape town.
Nhaka Gallery public relations officer Lorraine Sale stated that "Zimbabwean art is recognised around the world due to the efforts of the likes of the late Helen Lerois and Derek Huggins who nurtured artistic talents and promoted them, continuing this tradition is critical to the future of the Country's cultural expression and experience".
Fungayi Sox works at Tisu Mazwi — a communication-centered social enterprise which specialises in book publishing and storytelling projects. He writes in his personal capacity. For feedback contact him on 0776 030 949, follow him on Twitter @AntonySox, or connect with him on LinkedIn on Fungayi Antony Sox.
Related Topics