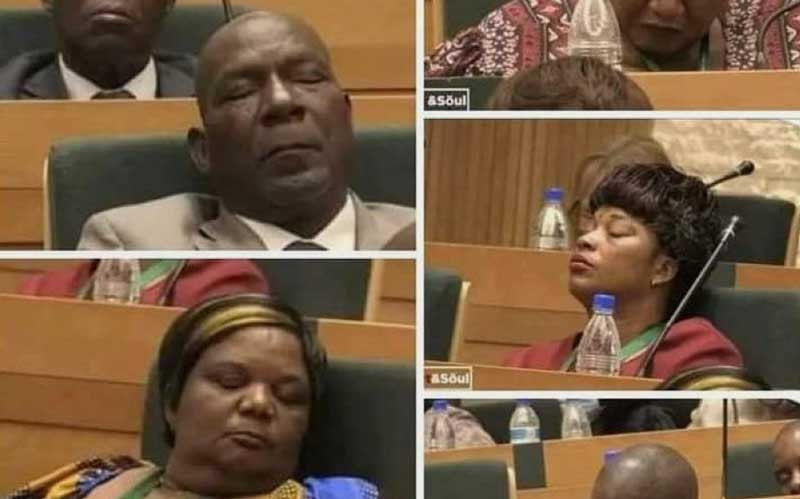 THE nation joined together in celebration this week after news came out that our generous government was doling out loans to our hard working Members of Parliament. Apparently, each legislator qualifies for a loan of US$40 000, a humble sum for our representatives.
Of course, jealous people came out to complain that this was too much money. They even said we must instead use if for less important things, such as medicines and books and so forth. Do people know how our MPs are suffering? They should ask Temba Mliswa, who speaks on behalf of MPs' welfare.
"We are constantly passing the budgets for the betterment of our nation without remembering ourselves," Mliswa said, to vigorous nods from MPs from across the aisle.
Some people have been crying for unity of purpose between our politicians. What better show of unity is there than this?
Parliament-cum-bedroom
There were more signs of growing bipartisan unity as images circulated of Members of Parliament sleeping in Parliament during a speech by our current owner.
Of course, the temptation is to arrest anyone who would dare to go to sleep while the President is speaking. Who in their right mind does that, when they should all be captivated by his rousing oratory skills? Why should people sleep when the man was talking about important things, such as the Bees Act and the Aquamarine Bill and digital signatures?
However, those MPs who went to sleep must be commended for their efforts. They were just testing, on our behalf, whether this building given to us as a gift by our all-weather friends is fit for purpose. MPs from both sides of the political divide took part in the snooze-fest, showing yet again how united our leaders are.
What is the point of building a new, airy Parliament with comfortable seats if the people's representatives cannot sleep in them?
Conditions of service
Speaking of rewards for our owners, we must all be ashamed of how ungrateful we are as a country. According to information from the Ministry of Zero Finance, our owner and the deputy owner are sharing ZW$69,2 million in salaries this year.
Between President Emmerson Mnangagwa and VP Constantino Chiwenga, the two earn an average ZW$5,8 million in salaries every month. Using the most unpatriotic exchange rate, this is less that US$7 000 per month. The budget has even set aside a mere ZW$13,8 billion for foreign travel and ZW$2,3 billion for hospitality.
Surely, this is a pittance for two men who are working day and night to make us a middle-income nation by 2030. Is this really how little we are rewarding our leaders for making us the envy of all the nations on earth?
If we keep paying such peanuts for the country's two biggest jobs, how are ever going to attract talent? We ought to be ashamed of ourselves as a people.
Miracle water, electricity
A lot of people were angry for a reason after it emerged that we would have even less electricity now because someone at Kariba left the tap open.
The Zambezi River Authority announced that the Kariba power station must shut down because the dam has run out of water to turn the turbines and give us power. For some reason, this made a lot of people upset. The most unpatriotic ones started dredging up 2018 campaign billboards that promised us that we would have more electricity than we know what do with.
Muckraker was reminded of an article from just two years ago, in which Monica Mutsvangwa, the Minister of Information, promised us that we would soon be exporting power to our neighbours due to the wise leadership of our leader.
"Zimbabwe will be able to produce 5 000MW that will be enough to meet local demand and exports. I hear by about 2025 we should be getting 5 000MW of electricity and this will give Zimbabwe what we want and make the country a net exporter," she said.
So, one wonders why people cannot be patient. Clearly, our miracle-working government has a plan of generating electricity by conjuring it from thin air. Trust them.
Dangerous love
There is much wailing and gnashing of teeth in the sellout sector after our owners revealed details of the Patriotic Bill, a new law that is meant to force people to love the government.
It was reported that the proposed Patriotic Bill will punish citizens who call for military action against their own country or call for sanctions and trade embargoes against Zimbabwe. This is a law that should be welcomed by all right thinking people.
But nobody was surprised to see some people coming out frothing against the Bill. Among them was the Zimbabwe Congress of Trade Unions (ZCTU), which used to be a serious trade union federation before it became an impotent pressure group.
Said the ZCTU: "The Bill effectively bars Zimbabweans from talking to foreign governments on the prevailing situation in the country".
And people wonder why nobody takes such organisations seriously.
Learn or perish
The whole continent is looking to Equatorial Guinea with admiration after the country's owner, Teodoro Obiang Nguema Mbasogo, aged a mere 80 secured almost 95% of votes in the election.
After six days of meticulous verification of votes, it was announced that Obiang had once again vanquished his opponents. He is the world's longest-serving president, and he will soon hit half a century of serving his people. His party won all the Parliamentary seats.
Muckraker is reminded of what one Alexander Lukashenko, the President of Belarus, once said about "winning" elections: "I admitted that we rigged the election . . . I gave the order to change it from 93% to around 80% because more than 90%, just psychologically, that is not well received".
We can only hope our owners are taking notes. Give yourself a big win like Obiang, but at least try not to make it too obvious.
Coward
There is much excitement after Saviour Kasukuwere announced that he is ready to lead the country if the people choose him.
"I'm available and if people say yes, lead us, I'm ready to do that, I'm not a coward, I'm not a fool," he said. This is not the first time in history that someone who ran away claimed not to be a coward. We used to do it as children, shouting at siblings from behind mother's skirts.
Kasukuwere told his supporters – likely a small group that needs emotional support – that he wants to lead Zanu PF to get rid of selfish Mnangagwa.
"It's not because they don't know what must be done or what should be done to rebuild our great party but because his (Mnangagwa) selfish interests have taken over," he said.
Of course, Mnangagwa's selfish interests need to go, so that they are replaced by new ones.
Related Topics