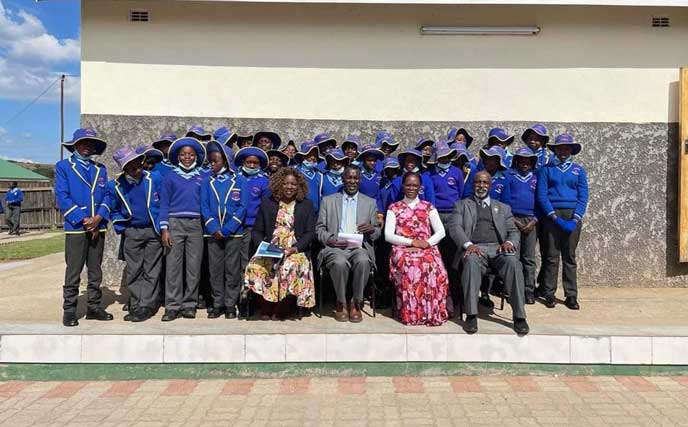 BY KENNETH MUFUKA This week, I found myself in a remote part of Zimbabwe, among the magic hills of Nyanga in Chief Tangwena paramountcy. Except for the one tarred road which ends just behind the General Hospital, the roads have become impassable. The hills are spiritual; hyenas, mountain lions and goblins share the misty (guti) filled landscape.
That part of Zimbabwe is a land filled with myth and legends, men 10-feet tall and goblins in partnership with hyenas that visit villages to scare little boys and girls who curse their parents.
Nationalist Edgar Tekere, in his biography said as he, Chief Tangwena and Robert Mugabe traversed the mountains into Mozambique, "spiritual lions" (mhondoro) made their presence felt as they rustled the grass beside their path to freedom.
A few years ago, in Saunyama chieftainship, in the village of Bande, an evil man died and was buried. No one said anything good about that man. That same night, people in the village swore that his friends, a troop of hyenas (considered messengers of the devil) dug his body up from the grave and took it to their master.
My assistant, Angie Mikiri, while showing off her physical prowess, found herself chasing a flame lily, until she realised she had strayed from the mountain climbers she was leading and that flame lilies do not flower in the winter.
It was a rude awakening.
This where, 6000 feet above sea-level, Major Herbert MacIllwaine perched the Troutberg Inn in 1947, lit a fire in its lobby whose fire has never been put out.
A lonely fisherman, who had set up a campfire by the Tsanga River conservatory, swore to me, a trout jumped into his frying pan before he could count to 10.
If you have never been to the Nyangani (meaning cow's horn) range, you should rightly be locked up.
A school built by an angel
But we found angels too in this mystic range.
Right in the middle of the devastating inflation, in 2012, armed only with love and faith Richard Saziya and John Sanders bought a lumber cutting machine from China for U$19 000. Surrounded by carefully managed pine forests around the Tsanga River, they started on a business journey, which has taken them beyond their imagination.
Richard, a carpenter, designed a lumber kit priced below US500 for a three-roomed cottage. The mark of genius is to see what everybody else has failed to see. Nyanga mountains, and the Troutbeck-Selbourne-Claireborne Estates area form the Riviera for holiday seekers running away from the hot Zimbabwe summers. Tsanga Timbers have a six-month advance order book for their customers. Everybody and his nephew who regard themselves as somebody has a cottage hanging on some unreachable mountain cliff. Winters drive away the pesky mosquitoes.
Richard and partner grew wealthy and mighty in stature even as the Zimbabwean economy was going through some shenanigans.
The real story
Richard and his wife, Beauty and their four children are unassuming Seventh Day Adventists. Whatever good fortune came their way, they attributed it to God's favour.
Richard rarely gives interviews, and so does his daughter, a director at Mountview Primary. All she could say to me was: "We are honoured by your presence at the school."
Adventists believe that a man's works speak for themselves. "If words fail, then say a few curse words to draw attention," said Mother Theresa of Bangladesh.
So, Richard and Beauty quietly built a neat little primary school for those among us who were less fortunate.
Mountview Primary has not raised its school fees for six years, forcing Richard to subsidise expenses. As the Zimbabwe dollar plays a yo-yo game, and the more the Saziyas dip into their resources, they find their faith deepened.
The school provides lunches and transport for the K-7 schoolers. A source told me a juicy story. When the school kombi driver failed to turn up, Richard drove the school bus. A spicy parent, judging him by his clothes, started to say some juicy words as to why he was late.
But there is more. Richard has built what Americans call a soup kitchen, to feed the needy in his hometown of Nyanga.
Invitation
A Mr Langeveldt, head of the school, asked if I can find words of encouragement for the young learners. Many years ago, I started an after-school programme in the United States for inner city kids ages four-12.
Their singular problem was the lack of self-esteem and the belief that the world was waiting to "get them and lock them up in a jailhouse".
So, I composed a poem, adapted from President Barack Obama's advice to his two daughters, Malia and Sasha, then 10 and 12.
I am somebody in God's eyes
I am a super kid
Super kids do not do stupid things
I can do anything if I put effort and time
If you are not part of the solution
Get out of my way
So, I can follow my dream
In my programme, which we called Precious Kids, we sang that poem every day before we started our lessons. In a few weeks, there was a marked increase in the learners' attention and results so much so that some of our kids were accused of copying.
Mountview learners liked the poem and before I left the school, they were singing it in the corridors.
Langeveldt was amused but feared and prayed that some naughty learners, now emboldened, would not twist a part of the poem to say: "Mommy don't do stupid things. If you are not part of the solution, move out of my way and let me pursue my dream."
It is a school with a big heart.
The school is truly a labour of love by its founders and staff. They serve the poorest and the needy among us with sacrificial love, asking nothing in return. Though the family will be alarmed by the attention that this article will draw, nothing but good can come out of such recognitions.
Professor Ken Mufuka was on a lecture tour of East and Southern Africa. He can be contacted at [email protected]
Related Topics