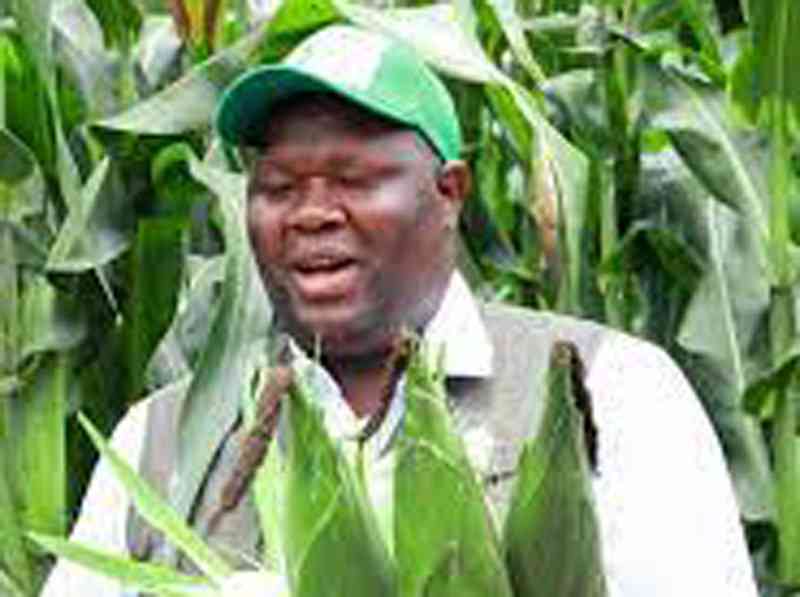 IF he sleeps behind the wheel, an entire nation faces severe levels of hunger. In an interview with our senior business reporter Freeman Makopa (FM), John Basera (JB), permanent secretary in the Ministry of Lands, Agriculture, Fisheries, Water and Rural Development indicates that he is aware of the gravity of the task at hand. But he maintains he is equal to the task. Below, Basera gives a glimpse of how his ministry is planning to improve the agriculture sector in the country.
FM: What measures are you putting in place to stimulate agriculture?
JB: The foundation has been laid through supportive agricultural investment frameworks and policies. The sector has grown since 2018, positively responding to deliberate interventions across various crop and livestock value chains.
Agricultural growth is now past an inflection point. However, sustainable financial models, responsibility and accountability systems would be required to avoid a relapse into the former food insecurity conundrum. We are riding on successes registered since the implementation of the agriculture recovery plan, horticulture recovery and growthplan, the livestock recovery and growth plan among others.
FM: How quick will this transition be?
JB: The ministry has adopted a new mantra, Going for Growth (#G4G2023),which is born out of the realisation that all fundamentals, in terms of plans, strategies and policies are in place to facilitate a smooth transition.
The entrenchment of #G4G2023 entails judicious deployment of resources committed by the fiscus, development partners and non-state actors to drive growth from all strategic crops and livestock value chains.
Water-tight interventions have been developed to ensure that production of key commodities surpasses the annual national requirements.
Transformation will be anchored on seamless transitioning of farmers from subsistence-oriented to commercial farming.
Growth is expected from key value chains, such as maize, wheat, oil seed crops, tobacco, horticulture, the national cattle herd and the dairy sub-sectors.
FM: This is no small job, Dr Basera.
JB: The ministry is confident of growth as there have been positive responses to current and planned programmes to spur rural transformation and development. All pro-rural programmes are dubbed agriculture rural development 8.0. In summary, 8.0 entails a set of inclusive, development-oriented interventions targeting crop and livestock subsectors.
A robust monitoring, evaluation and learning system is being adopted to ensure that all planned activities on the various programmes are executed timeously and judiciously. Interventions under 8.0 are being subjected to these rigorous tracking systems.
FM: Tell us about developments in livestock
JB: Other interventions that will culminate into growth include containment of tick-borne diseases in livestock. The Presidential blitz tick grease scheme benefitted over one million cattle owning households, each receiving one kilogramme(kg) of tick grease.
Tick-borne diseases related deaths in livestock will be averted and together with improvements in calving and off-take rates, the livestock sub-sector will also anchor growth. We also have the presidential community fisheries scheme, which aims to provide fish ponds to 35 000 villages. The Presidential poultry and goat schemes are targeting three million and six hundred thousand beneficiaries, respectively.
FM: What role is the private sector playing under these strategies?
JB: The government has introduced a policy, which compels private sector off-takers and users of agricultural commodities to produce at least 40% of their respective annual requirements through local production by supporting local farmers. In 2022, private the sector contributed over 57 000 hectares (over 71%) of wheat production. A consortium of private sector millers and processors, called Food Crops Contractors Association, was formed with government support. It has been contributing significantly to food production. The government's approach in programming, whilst engaging with the private sectorwill provide impetus (for agricultural sectorgrowth).
FM: When will Zimbabwe transform into a food secure nation?
JB: The ministry is still confident that the target of producing over 2,9 million metric tonnes of maize, from over 1,9 million hectares, is possible. To-date, over 1,5 million hectares (as at the 5th of January, 2023) have been established. The dairy sector is also expanding, as witnessed by a jump of 14,3% from 79,6 million litres produced in 2021 to 91 million litres in 2022. Similarly, the horticulture sector is fast expanding (following the) establishment of a US$30 million fund. Export blueberry production increased by 34% from 3 500 metric tonnes (mt)in 2021 to 4 700mt in 2022. This subsector is poised to reach 6500mt by the end of 2023.
FM: Tell us about the upcoming winter wheat cropping season
JB: The ministry has started planning for the 2023 winter wheat production with a view of increasing production by over 10% from 375 000mt. The target is to make Zimbabwe a perennial net exporter of wheat by the year 2025. Total area under crop production is expected to expand from 3,3 million hectares to 3,9 million hectares. The ministry is working on the capacitation of extension workers.
FM: What are the latest developments in tobacco farming?
JB: Hectarage(ha) under tobacco is up by 4% at 117 000 as at the 10th of January, 2023, comparable to 112 000ha during the same period in 2022. This is coming at the backdrop of a marginal growth by 1% from 211100 219kg produced during the 2020/2021 production season to 212711 370kg in the 2021/2022 season. Revenue to farmers increased by 10% from US$5 895 738, 27 in 2020/21 to US$6 503 085, 24 in the 2021/2022 season.All dominoes are lined up for the anticipated growth of the sector that will ride on support from Treasury in mobilising resources for the cause.
Current reflections on the Going4Growth mantra indicate that as at the 10th of January, 2023, area planted to soya bean was 47 203ha, up 24% from 37 990ha during the same period last year. Similarly, area under sorghum production is up 19%, from 216 741ha in 2021 to 258 297ha in 2022/2023 season.
FM: How important is agriculture to the economy?
JB: Zimbabwe is largely an agrarian society with a diversified cropping and livestock enterprises and value chains. Most investments are linked and dependent on the performance of the agriculture sector.
Agriculture is singled out as one of the critical sectors to enhance and propel the Vision 2030 development agenda. Actually, it is touted as the Vision 2030 accelerator. Being an agrarian society, Zimbabwe's agriculture and food system offers numerous opportunities along the farm to fork value chain.
Most livelihoods are directly dependent on agriculture. The performance of the agricultural sector dictates how the rest of other economic sectors perform. Agriculture is central to the economy of Zimbabwe contributing between 15% to 20% of GDP. Approximately 60% to 70% of the population and predominantly in rural areas are employed and derive incomes from agriculture.
The sector contributes significantly to Zimbabwe's annual export earnings, mainly accounted for by tobacco, cotton, horticultural products.
FM: Tell us about the sector's contribution to the manufacturing industry?
JB: The sector provides over 60% of industrial raw materials. Raw materials are essential for the nation to move up the value chain, thus creating upstream employment in manufacturing, distribution, financial services, warehousing, retailing and logistics.
The ripple and multiplier effects derived from improved performance of the sector are unparalleled in transforming the other economic sectors. Investment in agriculture is two to four times more impactful in ending hunger, eradicating poverty and creating the income stream base required to build resilient households.
The sector remains critical in achieving most developmental targets outlined under the Sustainable Development Goals. Furthermore, the sector's strength is hinged mostly on ensuring an inclusive economic growth and development.
In 2021, Zimbabwe's economy grew by 7,8% largely as a result of the 36,4% growth recorded in the agricultural sector. If we get our agriculture right, then we are on the right track to get everything else right.
Related Topics