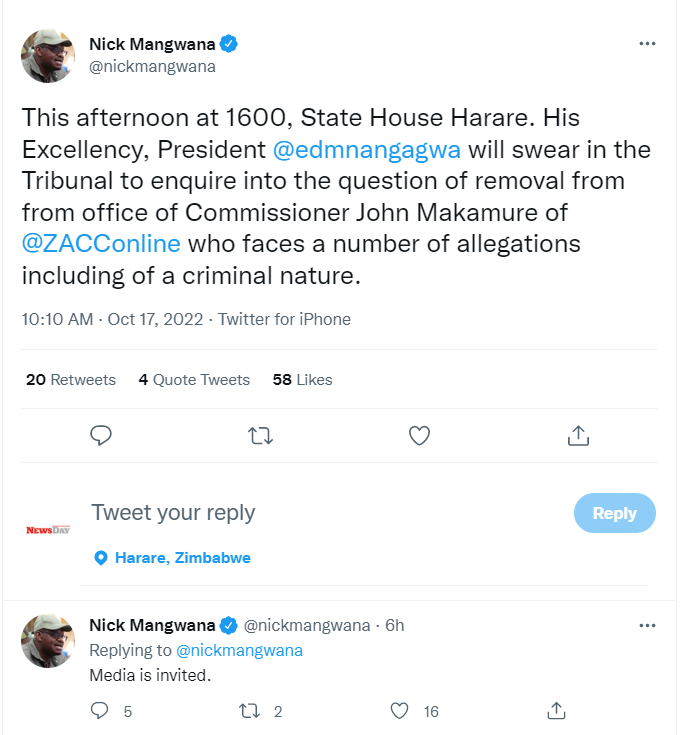 STATE security officers yesterday chucked out, for unknown reasons, six Alpha Media Holdings journalists from State House where they had gone to witness the swearing in of a three-member tribunal to investigate the removal from office of Zimbabwe Anti-Corruption Commission (Zacc) spokesperson John Makamure.
NewsDay chief reporter Taurai Mangudhla, photographer Shepherd Tozvireva, Heart and Soul head of current affairs and news Blessed Mhlanga and reporters Chengeto Chidi, Zibusiso Ncube and Atrishya Gondo were booted out by one of the security personnel without giving reasons.
Daily News' Katty Nyoni was also ejected together with the AMH media crew.
This happened soon after the journalists had gone through the routine security clearance process plus COVID-19 tests at the State House clinic.
Some people had earlier warned the journalists ahead of the event that "AMH was now too much", in apparent reference to its continuous coverage of corruption, speaking truth to power and taking government officials to task over abuse of taxpayers money.
In terms of Statutory Instrument (172 of 2022) and proclamation number 4 of 2022, Mnangagwa appointed retired Justice Maphios Cheda chairperson of the tribunal to investigate Makamure. The other two members are lawyers Charles Warara and Regai Hove.
Justice, Legal and Parliamentary Affairs ministry secretary Virginia Mabiza is the secretary to the tribunal.
Makamure was appointed commissioner in the anti-graft body in 2019 following interviews conducted by Parliament. He was later appointed Zacc spokesperson.
"Now, therefore, under and by virtue of the powers vested in the President as afore said… I do, by this proclamation direct that the tribunal shall be held for a period of five (5) months from the date of swearing in of members, at such appropriate venue as shall be determined by the tribunal (and) direct that the report shall be availed at the conclusion of the inquiry," the SI read.
This comes after the Judicial Service Commission, through a letter dated October 12, 2022, formally advised the President that the question of removal from office of Makamure ought to be investigated.
The tribunal will also investigate whether or not Makamure failed to disclose his involvement in political activities which is inconsistent with the duties and functions of commissioner of Zacc as well as investigate whether or not Makamure directed one Lee Sung to fund his political campaign in Gokwe in return for his protection.
Sources have suggested that Makamure was eyeing Justice Wadyadyena's Gokwe-Nembudziya parliamentary seat in next year's elections.
NewsDay is also reliably informed Makamure reportedly visited Mnangagwa's farm in Kwekwe on Sunday in the company of colleagues to try to stop the tribunal, but he was denied access to the President.
Makamure is also said to have tried to smoke the peace pipe with Wadyadyena using top government officials and Mnangagwa's allies, but the Gokwe-Nembudziya legislator would have none of it.
The inquiry shall be held both in public and private, as the tribunal deems fit.
Related Topics