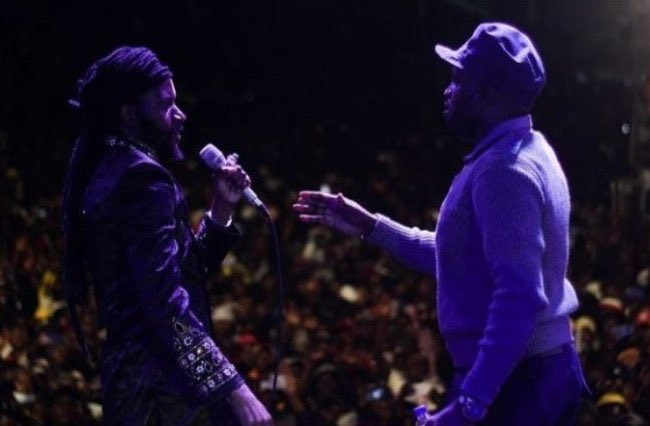 MUSIC and politics have always been intertwined in Zimbabwean society dating back to the colonial era with musicians like the late Dickson "Chinx" Chingaira and Chimurenga music icon Thomas Tafirenyika Mapfumo having played an integral part in the liberation war. Their music came to be identified with the fight for freedom.
Even the late Jamaican singer Bob Marley, on his song Zimbabwe, plucked off his Survival album, preached cultural and political resistance against white oppression in Africa.
Shockingly, in an independent Zimbabwe, President Emmerson Mnangagwa's regime seems to be borrowing from the colonial rule book, using the white settler regime's modus operandi to shoot the messenger, multi-award-winning dancehall chanter, Winky D simply because he has decided to stand up and protest against injustices through music.
Born Wallace Chirumiko, Winky D's music journey mirrors that of artistes like Mapfumo, as he sings against corruption, abuse of power, poverty, unemployment and the many social injustices that Zimbabweans are currently enduring day and night.
According to arts critics, art whether music, paintings, sculptures, poems or literature is a vital tool for creating and defending democracy, but locally democracy appears to be receding as the rights of citizens, especially artists have been limited.
Sadly, Winky D for simply singing about the country's unsustainable levels of poverty, corruption and unemployment that are breeding social injustices and human rights abuses, he is being attacked and having his shows disrupted.
Target of sponsored violence
On the eve of Christmas in 2018, Winky D and his Vigilance Band members had to run for dear life at the Solomon's Lifestyle Cafe in Kwekwe after machete-wielding assailants, believed to be linked to Zanu PF in the Midlands province, confronted them with machetes.
The suspected ruling party hoodlums appeared to have been irked by Winky D's Kasong Kejecha.
The song (Kasong Kejecha) talks about corruption, the deteriorating health sector, and government's claims that the local currency was equal to the United States dollar.
The song did not go down well with some ruling Zanu PF party supporters and officials, resulting in it being denied airplay at State-owned radio stations.
After the release of the song, Winky D's camp said it was apolitical and anything beyond the social interpretation of their music was a figment of the listener's imagination.
In 2020, the police were exposed for double standards and came under heavy criticism after they forced the 11th-hour cancellation of the highly-publicised Best of Both Worlds concert that was to be headlined by Winky D and Jah Prayzah at the Harare International Conference Centre.
In banning the concert, the police said it was part of a raft of measures to curb the spread of the deadly COVID-19 virus, but the lockdown restrictions, however, appeared to have been selectively applied as gospel songbird Janet Manyowa the previous week had successfully launched her extended play at the same venue where some people gathered physically.
Winky D last week had his performance cut short after police besieged the stage while he was performing at Damview Chikwanha Blue Rest Grill and Bat in Chitungwiza. The attack has been described by many as "barbaric and unacceptable".
Allegations are that police were ordered to end the show soon after Winky D belted the song Ibotso, which loosely translates to mean a curse.
The song, which featured hip hop music star, Mukudzeyi Chitsama, popularly known as Holy Ten, mirrors the state of the nation — socially and economically.
The song speaks of how the rich and powerful are taking all that the poor should be getting.
Police officers, some in plain clothes, surrounded the 40-year-old Winky D on the stage before the artiste was forced to scurry for cover after missiles started flying on the stage just after 10pm.
Hundreds of fans at the concert sang "Siyanai naye Gaffa munomunetserei" (leave Winky D, why do you trouble him) in support while others threw some missiles to vent their anger over the police's act on their idol.
Home Affairs minister Kazembe Kazembe has since been ordered to appear before Parliament to explain why police stopped Winky D's performance.
"Musicians are the core of the arts industry and they give entertainment to all of us. I am, therefore, requesting that the Home Affairs minister should come before this august House with a ministerial statement to explain whether there are now limitations or that musicians should no longer perform," Dzivaresekwa legislator Edwin Mushoriwa said as he raised the issue in the National Assembly as a matter of national interest on Wednesday.
"The provisions of MOPA [Maintenance of Peace and Order Act] do not require such interference that we are seeing. The honourable minister should come before us and explain the position. It's actually a stab to the arts industry which has been generating something towards the gross domestic product."
Winky D's freedom of expression censored
Followers of showbiz matters are of the view that freedom of speech and expression, a fundamental human right enshrined in the Constitution of Zimbabwe, has been one of the democratic rights under attack in Zimbabwe evidenced by the recent events on the showbiz scene.
In appreciating that music should speak to people's realities, Winky D through his compositions has proved to be the voice of the ghetto.
Through music, he has been able to express the citizens' frustrations.
"Great artistic talent as exhibited by Winky D can be used to educate and provide public debate which creates empathy that can lead to people changing their views about social issues that can result in social change," dancehall music fan who identified himself as Jah Pablo told NewsDay Weekender.
While freedom of speech and expression are fundamental to speaking truth to power and generating debate that is necessary in creating and maintaining democracy, Winky D appears to have become the latest victim of State brutality.
Having been born in the ghetto, Winky D has become a darling of many who relate to the messages in his music that speak about the everyday struggles of ghetto life and nation at large.
Sadly, in the process, the Kambuzuma-bred dreadlocked singer is being targeted because of his protest music.
Although the majority of people in the country have associated Winky D's music with politics, he has always denied being linked to any political party and according to him, he aligns himself with people's lived realities and champions social justice.
Eureka Eureka rattles authorities
Winky D's latest politically-charged album, Eureka Eureka appears to have fuelled enmity between the Mafirakureva hitmaker and authorities who believe he is a mercenary sent to champion the regime change agenda through music.
Since the launch of the album on New Year's Eve, there has been the baying for Winky D's blood from the purported ruling party, Zanu PF's social media trolls, and supporters.
The album Eureka Eureka carries songs such as Ibotso, Vafarasi, Chauruka and Dzimba Dzemabwe, which features United Kingdom-based songstress Shingai, among many others that tackle social injustice, Zimbabwe's economic meltdown, and corruption within the government.
No doubt, the songs have ruffled more feathers if acts by Zanu PF's officials are anything to go by.
To some, Winky D's songs have mostly carried political messages, with many assuming he has chosen to side with the main opposition party, Citizens Coalition (CCC) for Change, while another section of society views him as just a social justice champion.
It was shocking to hear Zanu PF information director Tafadzwa Mugwadi recently accusing Winky D of being used by the United States embassy in Harare to preach the regime change agenda meant to topple Mnangagwa.
A week after the release of Eureka Eureka, Economic Empowerment Group, a Zanu PF-affiliated pressure group called for a ban on Winky D's music saying it caused alarm and despondency within the "peaceful" youths.
In an act of stifling the voice of art, government, on the other hand, has reportedly ordered State-run radio stations to mute Winky D's music amid allegations that his music causes "alarm and despondency".
Reasoning voices over Winky D's harassment
In appreciation of Winky D's composing prowess, several people have come to his defence. Norton legislator Temba Mliswa (Independent) believes Winky D should be celebrated and used as a model of how ghetto youths can make it cleanly.
"In our troubled economy where youths are getting destroyed by drugs young people like Winky D should be celebrated and used as models of how ghetto youths can make it cleanly instead of sending Zimbabwe Republic Police officers to fight him.
"Are the authorities now trying to derail his (Winky D) career by this cowardice? An artist whom we should be celebrating is busy fighting! Minister @KirstyCoventry what is this? This kind of fascist fear of anything contrary to the State's position is very unhealthy, dangerous, and progressive. It stunts growth everywhere since you want to create a docile population of gullible yes-men."
CCC leader Nelson Chamisa urged government to fix citizens' problems, saying Winky D was just a messenger speaking on behalf of the people.
"Stop stifling artistic freedom and creativity ... @winkydonline Gaffa to the Gaffest is just a musical icon.
"Don't shoot the messenger, troubleshoot and deal with the message. Fix the citizens' daily problems and struggles.
"Is this the land we cried for, we died for?, #Musadaro!"
Crisis in Zimbabwe Coalition (CiZC) said police should respect freedom of expression, a fundamental human right, and allow artists, especially musicians to hold their shows without blatant political interference.
"This quest to control artistic expression can only draw parallels to and reads like an ill-thought imitation of Joseph Goebbels' quest to cleanse the arts sector in Nazi Germany or the Rhodesian colonial government that banned and persecuted artistes who sang for the liberation of Zimbabwe," CiZC spokesperson Obert Masaraure said.
"These actions, which are a clear violation of the musicians freedom of expression and artistic creativity, as enshrined in the constitution of Zimbabwe, are a new low for the Second Republic, which, over the past five years, has not hesitated to abuse the state security system to suppress free expression."
A music fan, Deezy Desmond, added: "Why does the law involve itself in art? Instead of arresting criminals and getting the country in order, they go harassing musicians. The law and the government itself hate the truth and everyone who abides by it. The future is not bright if we keep entertaining this garbage leadership."
Winky D getting rewarded
Winky D's efforts to sing against social evils have not gone unnoticed. For the second time, he has been nominated for the 40th edition of the International Reggae & World Music Awards (IRAWMA) under the Best African Dancehall Entertainer category alongside Patoranking from Nigeria, Shatta Wale and Stone Bwoy (all from Ghana) and Star Zee from Sierra Leone.
This year's edition of the awards ceremony will be held on May 7 in Kingston, Jamaica.
In 2021, Winky D was adjudged the Best African Dancehall Entertainer of The Year at the same awards ceremony.
In that same year, he was the recipient of Africa's 2021 Accountability Music Award with his song Njema off his 2019 album with the same title.
The ONE, Accountability Labs and Trace Africa-sponsored gong celebrates artists who speak against corruption through music.
In his acceptance speech, Winky D said he composed the winning song Njema not to merely amuse the audience, but to extend the thought power around the purpose of music in society.
"It was not that easy to put up this project since poverty itself is a devices state, representing the truth about it is even more contentious given the varied vested interest and opinions around it.
"This prison is deep in our mental states as driven by lies, corruption, poverty, cowardice, and all the other societal ill that you can imagine. These mental shambles continue to limit our dreams, our hopes, our aspirations for a better and more sustainable world."
He added: "The words in music are a common currency that people can enjoy without worrying about fluctuations. Music is always best when driven by experience rather than hearsay or imagination.
"Be that as it may, no one can dispute that every human being matters and deserves to be unshackled from the chains — njema."
Winky D's other songs such as Mafirakureva, Ijipita, Njema and Murombo speak for an artiste who wants to see a better Zimbabwe.
Related Topics