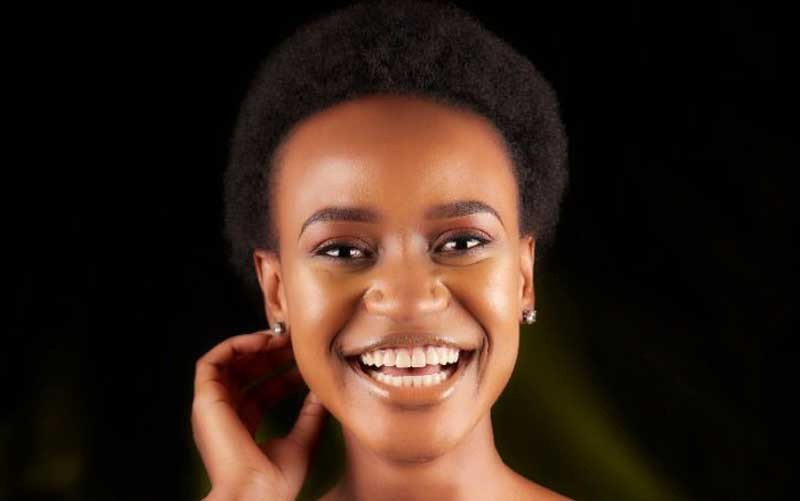 Former World Miss University Africa queen, Valerie Gugulethu Chingonzo (31), is passionate about using her artistic skills to change lives in the society and fight for women and girls' rights.
A former Miss Zimbabwe finalist, Chingonzo also has a soft spot for the disadvantaged.
She is a lady of many talents who fits in sundry creative jackets. She is a model, author, radio and television presenter all rolled into one.
In everything she does, Chingonzo always exhibits a strong passion for the girl child.
NewsDay Weekender caught up with the multi-talented Chingonzo, who opened up on her modelling journey, book writing, among other ventures.
Brief profile
I am a 31-year-old female from Harare, who is a former beauty queen who has won several titles in the last few years.
Some of the titles that I have won are Miss Bulawayo first princess (2012), Miss Universities Zimbabwe (2013) that stood for beauty with brains and World Miss University Africa (2015).
I am also a radio and television presenter currently hosting online radio shows on an international platform called Radio Musika.
Above all, I am an activist for women and girls' rights.
View on the current stage of pageantry
The state of our country's pageantry is not so good. During my days and even before that, there was consistency with the pageants such as Miss Zimbabwe being held every year with life-changing opportunities.
Now the pageant world seems a little dead and not something a young girl can aspire to go into, but I believe it can be revived.
Success in modelling
I undertook a model grooming and etiquette course when I was younger, which helped me to be successful in the modelling industry.
Beauty with brains
I am a holder of a Diploma in Media Studies, a Bachelor of Science Honours degree in Women and Gender Studies and a Master of Arts in Development Studies.
Book writing
I am happy to have published my book titled Kingdom Beauty Regime in 2020. This book syncs beauty, health, well-being and image with the word of God.
The book equips one with tips on being confident and celebrating one's uniqueness.
Some of the issues tackled in the book are image, health, beauty, wellness, mental health and depression.
Through the book, I am hoping to help especially teenagers with self-esteem and confidence, considering the high suicide and depression rate being recorded among the youths.
Book writing is like giving birth to a baby. You carry the baby (project) for nine months, you give birth to it and that is when the work starts.
It takes a lot of discipline, commitment, direction and vision. I wrote this book for three years, secured an editor, publicist, launched the book, marketed and promoted it.
I am now selling it. Even after writing, you still have to do the marketing for it to be known out there and use the message in the book to change people's lives.
Inspiration behind the book
This book comes from a place where I became comfortable with my inward beauty and feelings. It is about me and the transformation in my life through certain experiences.
I was a beauty queen and I was privileged to compete and to be celebrated on an international ramp, yet I was not celebrating myself on the inside.
I suffered from depression and struggled with what I know now were daddy issues manifesting in my male relationships and decisions.
The death of my loved ones, low self-image and low self-esteem because of my journey with acne was part of it too.
I decided to face these monsters head-on and to stop hiding behind my beauty and glamorous world.
I finally learnt the true value, the core and the meaning of a queen from the inside out. This mostly came through biblical principles.
The book is like a guide or manual that will enable one to come out of that which entangles them, leading to victory.
It is not just about beauty, image and health tips, but about how to become your true self.
Currently, the book can be found in all Innov8 bookstores and Mambokadzi Wellness Centre. It has also been approved for sale on Amazon, which means it is also accessible to the international market.
Of entrepreneurship
I am the owner of Valbeaut Image Consultancy, where I train individuals on grooming and etiquette and image building. I also run Valbeaut Image that sells essential oils and natural products for healthy skin.
If there was an opportunity to start life again
Every decision I have made has made me who I am today and I am proud to say I am a success. There were minor mistakes along the way, but not ones that were detrimental to my future. I would actually mess up if I was to start all over again.
Philanthropic work
Currently through my business Valbeaut Image Consultancy, I teach basic social and soft skills to girls that I handpick for free.
I see the potential in them and the lack of exposure and I take them for a three-month course in image building and personal development.
Aspirations
I believe my main mandate in life is to see people become the best versions of themselves, to use my gift in speaking, ability, confidence, business and academic knowledge to empower women and girls.
I desire to become an international brand, to become happily married and successfully raise a family.
Motto
Remember gems are never polished without friction.
Favourite food
My favourite food is macaroni and cheese or spaghetti bolognaise.
Hobbies
I love reading, travelling and teaching.
Relaxing
For me, relaxing speaks to anything to do with travelling, reading, good food, good music and good company. Relaxing for me is also just living a glamorous life, a soft life. I am all for that.
Follow Winstone onTwitter @widzoanto
Related Topics