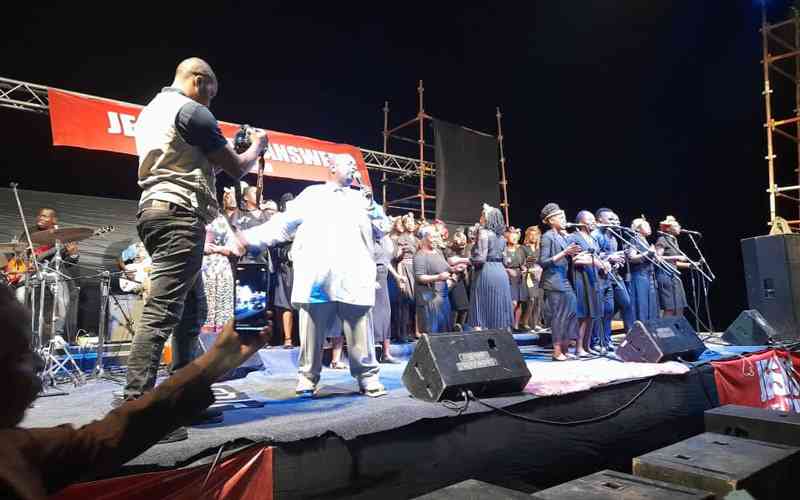 AFTER a two-year hiatus due to the COVID-19 pandemic, the Call to Worship Global Conference made a resounding return that attracted thousands of people to an open space in Mabvuku, Harare.
Apart from a musical extravaganza, the worship festival also included a business symposium.
Apostle Philip Pike, the co-founder of Call to Worship and one of the main organisers of the event, told NewsDay Life & Style that their expectations were met in an amazing way with back up support from corporate partners, local church leadership and other stakeholders.
"Call to Worship Global shifted its objectives from the traditional Harare International Conference Centre annual event of gathering different churches together and worship, this time we moved right into the community and became relevant and fulfilled the vision," he noted.
"Call to Worship Global's main drive is to worship through music hence enough time was given to combine the Call to Worship team and other groups from Mabvuku, Tafara and Eastview to form a unified worship group with a clear objective to minister through music. The team was well-co-ordinated though we still need dedicated full-time instrumentalists."
Pike said with very limited financial resources Call to Worship Global managed to co-ordinate and passionately ministered to
the capacity crowds of between 4 500 to 5 000 in attendance every night.
"It was an amazing event, not only relevant, but also well organised. It was a spectacle in Mabvuku and surrounding areas. It is exciting the numbers, those attending and those who gave their lives to the Lord. 1 Corinthians 15:57: But thanks be to God, which giveth us the victory through our Lord Jesus Christ," he noted.
"The event exceeded my expectations. The organisation and quality of presentation was excellent, in particular the night when models were used to make the message clear. The fact that so many people received Jesus excites me."
He added: Call to Worship Global's bold penetration into the community, especially after COVID-19 restrictions and lockdowns attracted the attention of many church organisations, corporates to the realisations that Zimbabwean Christians had the capacity to rebuild our broken values, beliefs and restore the integrity of God's word in the last days."
Pike further stated that the worship festival had three dimensions of success.
"Spiritually, measured by attendance and the number of souls born again during the crusade we saw over 615 new souls coming into the Kingdom. The crusade also brought together 40 churches and their leaders to a single gathering which is Call to Worship's mandate and vision," Pike said.
The business symposium according to Pike was very informative and practical to the Small and Medium Enterprise as well as prospective entrepreneurs.
"The business exercise and testimonies created a huge impact on potential ordinary community traders by taking advantage of available officers from different companies who were ready to answer different related questions," he said.
Call to Worship Global was initially established as Call to Worship Zimbabwe in 2008, starting as an annual inter-denominational event, with the aim of preaching the gospel through praise and worship, and the gathering of Christians across the country.
By 2009, the event had more than 20 different churches participating at its annual praise and worship gatherings, where different church leaders prayed for the country.
Follow us on Twitter @NewsDayZimbabwe
Related Topics