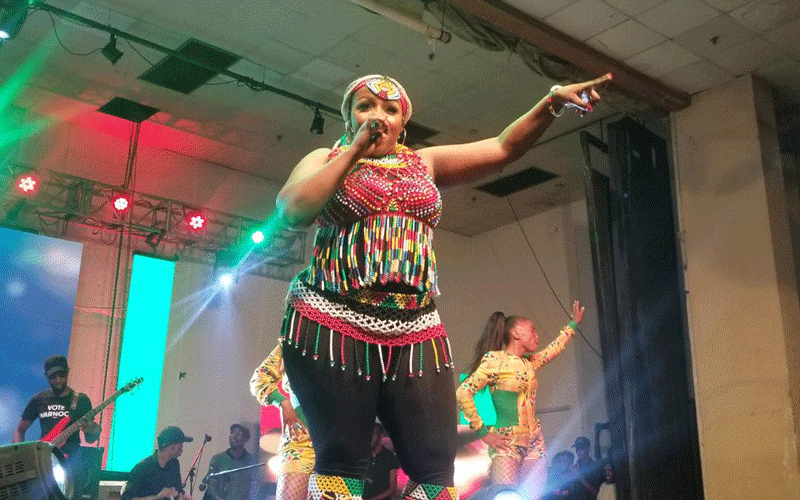 THOUSANDS of revellers on Tuesday night converged at Chitungwiza's Aquatic Complex for the Anti-Sanction music gala headlined by the country's top music performers.
The concert was part of several activities that had been lined up by the government in commemoration of the Southern African Development Community (Sadc) Ant-Sanctions Solidarity Day.
The day was adopted at the 39th Sadc Summit in Dar es Salaam, Tanzania, in August 2019.
Sounds from different music genres echoed at the concert as both veteran and rising artistes took turns to entertain revellers.
The gala, held under the theme: Enhancing Zimbabwe's Resilience through Economic Development and Engagement and Re-engagement, exposed the lavish lifestyle some Zimbabweans ironically enjoy in face of the purported sanctions.
It appears many temporarily forgot their worries as they spoiled themselves with alcohol, braai and danced to live music.
At the VVIP section, Information minister Monica Mutsvangwa and husband Christopher alongside other government officials partook of whisky and biltong.
Among the artistes, who took turns to entertain revellers, were songbird Sandra Ndebele — whose dances left the many mesmerised — sungura musicians Romeo Gasa and Mark Ngwazi.
Visually-impaired gospel musician Munyaradzi "Greatman" Munodawafa, Mathias Mhere, Michael Mahendere and Dorcas Moyo were also part of the line up of performers.
Sungura ace Nicholas Zakaria and Zora singer Leornard Zhakata proved they were still the people's favourites as the crowd sang along and danced to some of their tracks during their sets.
Dancehall artistes Dhadza D, Jah Master and Bazooker also did not disappoint.
The Information minister called on Zimbabweans to unite against the sanctions.
"Sanctions have destroyed a lot of things. We are happy that children of Zimbabwe have united to say no to sanctions. We thank the Southern African Development Community and African Union for standing in solidarity with us," she said.
"Let us be united under the leadership of President Emmerson Mnangagwa. Those in the diaspora are also saying no to sanctions."
Meanwhile some people expressed reservations about the gala.
"Are music galas going to end sanctions or is this just a waste of resources? Why can't the leaders engage those who imposed them?" said a reveller who only identified himself as Brighton.
Young Global Leaders Network ambassador Tinashe Ngirandi said: "Let this day be turned into something fruitful. It is better to have dialogue with those who imposed the sanctions.
"Are we going to have more than 20 years of commemorating this day without any results? So, it is important to evaluate. We did it last year, which results did we achieve? Is it helping? Those who have the decision to remove the sanctions are not considering our efforts? We need to look for strategies that work better."
For some rising artistes, the gala accorded them the much-needed opportunity to rub shoulders, mix and mingle with their role models in the showbiz industry.
l Follow Tafadzwa on Twitter @Tafadzw_Kachiko
Related Topics