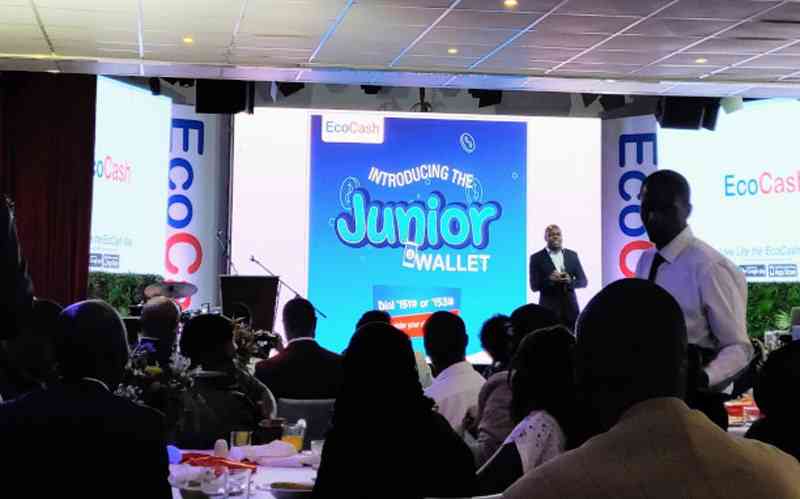 Zimbabwe's largest mobile money platform, EcoCash, says it is excited with customers' response to the introduction of the EcoCash Junior Wallet, which was launched in September.
The product, which is a parent-controlled mobile money service, is targeted at young people (between 9-18 years of age) and provides a safe and reliable digital transaction experience for the next generation of Zimbabweans.
Munyaradzi Nhamo, EcoCash's chief operating officer, thanked parents who have responded well by registering their children on Junior Wallet.
"We have so far received a very positive response to the EcoCash Junior Wallet and we are grateful for the support we are receiving from parents, who are entrusting us with the responsibility to enhance their children's financial literacy," he said.
The EcoCash Junior Wallet allows parents to open a mobile wallet for their children and keep track of their spending habits. The platform provides great parental control and a cashless experience that is financially inclusive for children. It also offers a nurturing platform that stretches beyond digitisation of payments.
Mr Nhamo urged parents and guardians who are yet to register their children on the platform to do so to enable them to experience a digital lifestyle brought about by the mobile money platform.
"EcoCash Junior Wallet brings a new level of daily convenience in a safe and secure environment for children. As part of our ongoing commitment to open up digital ecosystems, we will continue to expand on the capabilities of the Junior Wallet by working closely with our trusted partners and developers," said Mr Nhamo.
How does EcoCash Junior Wallet work?
Following months of intense research and development, involving banking, finance, child development and mental wellness experts, the Junior Wallet is designed to be both parent and child friendly, while ensuring it complies with financial regulations.
To register for the wallet, which targets students aged between 9 and 18 years, parents simply need to take the these easy steps:
Dial *151# (ZWL wallet) or *153# (USD wallet) on their Econet mobile phone
Select Option 5 – Junior Wallet
Enter the Child Information — First Name, Last Name, Date Of Birth, ID Number, MSISDN (Econet mobile number)
Confirm registration details
The child will be activated, and the parents will be required to attach the 'Know Your Customer' (KYC) documents, including the child's birth certificate and any legal adoption papers, on the EcoCash selfcare web portal (https://selfcare.ecocash.co.zw/portal/) for the account to remain active.
Successfully registered children can use the Junior Wallet to send and receive money, pay for goods and services, buy airtime and bundles, QR payments, Bureau de Change, pay bills, request money or give to their church. They can also make use of the EcoCash App and as well as the popular EcoCash selfcare chatbot "Thembie".
The wallet can be funded with either Zimbabwe dollars or United States dollars through cash-in, peer-to-peer transfers, or via bank-to-wallet transfers from a parent or guardian, who can freely monitor their children's spending habits.
Although parents can upload unlimited funds onto the Junior Wallet, there are transaction limits for payments, which are $35 000 per/day and $240 000 per month, and up to US$175/day and US$700/month on the USD wallet.
EcoCash said the new Junior Wallet allowed parents control to reset pins, but also makes it easy for them to track their children's spending and help build their financial knowledge.
Related Topics