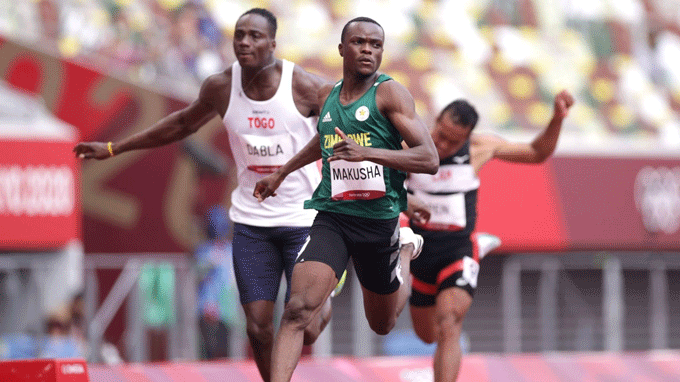 BY MUNYARADZI MADZOKERE
BARELY two months after he achieved his lifelong dream of representing the country at the Olympic Games in Tokyo, Zimbabwean sprinter Ngoni Makusha has already begun preparations for the 2024 Olympic Games, which will be held in Paris.
Makusha was one of the five athletes, who represented Zimbabwe at the global sporting showcase in Tokyo this year, but he crashed out in the heats having shown promise in the preliminary round early in the competition.
The 27-year-old sprinter failed to beat his personal best time of 10, 17 seconds in the 100m dash, managing a winning 10.32 seconds in the preliminary round before a disappointing time of 10.43 seconds in the Heats.
He finished seventh in his first-round heat at the Olympic Stadium in a star-studded line-up that included African record holder Akani Simbine from South Africa.
After a month's break, the Chitungwiza-bred athlete has already begun preparations for the next Olympic Games.
"I rested for a month after the Tokyo experience before I started my training again. I am already preparing for the next season where there's the African Senior year and World Athletics Championships set for Oregon in the US," Makusha told The Sports Hub.
"I have already started my preparations for Paris 2024. I only have three years to prepare," he added.
The 100m and 200m specialist was a beneficiary of a universal slot for the Tokyo Olympics which the National Athletics Association of Zimbabwe (NAAZ) had been offered by the World Athletics due to failure by local athletes to meet the qualifying standards.
This time around Makusha will be looking to meet the qualifying standards as he draws lessons from the experience he gained from competing at the Tokyo Olympics.
"It was a wonderful experience representing my country at the Tokyo Olympics. I enjoyed every bit of it and took many lessons, which will make me a better athlete going forward.
"It changed my mentality, how I view things and realised the sacrifice, discipline and the hard work it takes to be an Olympic athlete. It certainly is not easy," Makusha said.
Hailing from the dormitory town of Chitungwiza, Makusha blossomed into a track and field athlete of note at St Aidan's Primary School, which is also the alma mater of Zimbabwe cricket team rising star Wesley Madhevere.
From there, Makusha proceeded to Harare High School in Mbare, where he continued to hone his skills as an athlete.
"I have always been good at athletics since I was young. I am really passionate about it so I thought what's better than to do what you love for a profession. But interestingly I was also good at rugby and I think I could have pursued that career," Makusha said.
Makusha also shared his sentiments about what needs to be done for the country to be able to compete on the global stage.
"I think in order for us to be medal contenders, we need all the support we can get. We also need to improve on our talent identification, just like other nations which are bagging the medals.
"Other countries invest in their athletes, which is what we need in Zimbabwe to stand a chance to compete," he said.
Ironically, Makusha shares the same name and surname with the now retired national 100m and long jump record holder, who represented the country at 2008 Beijing Olympics although they are not related.
Related Topics