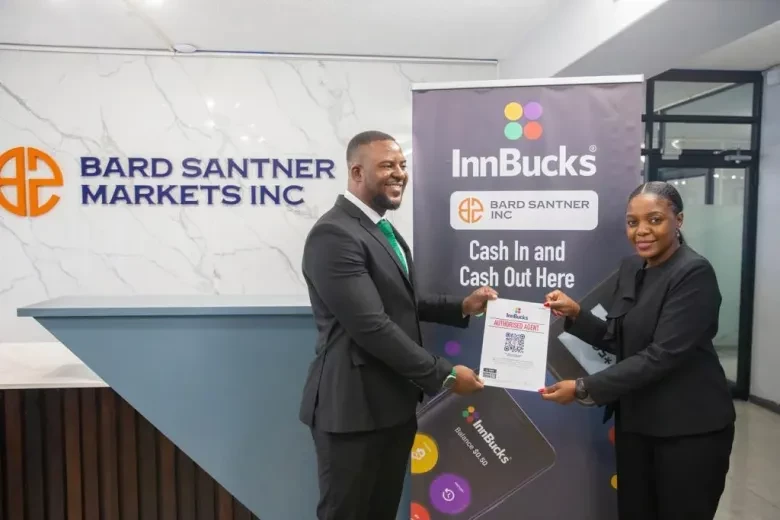 FINANCIAL services outfit, Bard Santner Markets Inc, said yesterday it was expanding its footprint in the remittances market, after signing a partnership agreement with online payments platform InnBucks Microbank.
The deal will see InnBucks, whose influence has grown significantly in Zimbabwe's funds transfer space, leveraging on Bard's growing network to bolster its market share.
The transaction followed a similar deal signed between Bard and Kuvacash allowing the firms to partner on the remittances front.
InnBucks chief executive Daisy Zinyemba said after signing the transaction that working with Bard will help the firm widen its footprint, a vital part of Zimbabwe's financial inclusion strategy.
"We are excited about this new partnership," she said.
"In a market rapidly re-inventing itself, InnBucks strives to stay on top of the shifts in the market by prioritising our customer needs. We have a deeper understanding of the historical precedence, cultural forces and resonance of existing competitor propositions, hence we haven't only 'revolutionised' banking, but our proposition is focused on sustainability," Zinyemba added.
Speaking at the same occasion, Bard executive director Lucia Chingwaru said the transaction was important for improving the company's operations.
She said it is important to that firms capitalised on new opportunities being brought by the digital financial services ecosystem.
"Financial services are undergoing a 'post office to email' moment. As digitalisation accelerates, financial institutions should be able to offer better, faster and more bespoke or tailored services," she said.
"The combination of technology from InnBucks and the value-chain of products and services from Bard is certainly a point of differentiation for customers and partners. In this sector, success in future will be achieved by those who have the greatest proficiency in utilising technological advancements to initiate innovative applications, generate value and shape the competitive environment," she added
A statement issued after the deal said new and existing InnBucks clients will enjoy the convenience of being able to access services at Bard channels in addition to the already existing 300 InnBucks outlets.
Bard is a financial advisory specialising in corporate finance, asset management and wealth management, as well as financial intermediation, while InnBucks is the fastest-growing technology-driven and deposit-taking microfinance institution.
According to Bard, as Zimbabwe's financial sector expands, diversifies and deepens, "the remittance business is rapidly growing as evidenced by the diaspora transfers which saw a 14% increase last year, translating to US$1,7 billion".
Related Topics