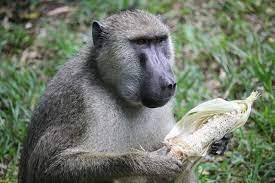 HWANGE, Matabeleland North — Villagers residing in private conservancies are often forced to endure human-wildlife conflict.
In a bid to encourage wildlife conservation and reduce the burden faced by people in those areas, villagers are compensated under the Communal Areas Management Programme for Indigenous Resources (CAMPFIRE).
At the onset of the Coronavirus pandemic, human-wildlife conflict increased as baboons and elephants destroyed crops while hyenas devoured livestock.
Despite intervention from the Zimbabwe Parks and Wildlife Management Authority (Zimparks), villagers did not get any compensation as no hunting quotas were issued.
Proceeds from hunting quotas within the wider Hwange district contribute largely to local communities' development.
Villagers say they have used the proceeds to build clinics and schools.
"The advent of Covid-19 brought hunting activities to a standstill as a measure to contain the spread of the pandemic. Local communities lost the infrastructure development and other gains that came from hunting through CAMPFIRE and local wildlife conservancies," says Abel Moyo, a former CAMPFIRE member.
Most rural communities in Zimbabwe depend on revenue streams from trophy hunting for bankrolling their local level development plans through CAMPFIRE.
These communities receive approximately 50% of the value of trophy purchases with the remainder being retained by the local government.
The advent of the Covid-19 pandemic cast doubt on trophy hunting and subsequently on the share of revenue from hunting quotas allocated to safari operators.
"In the absence of trophy hunting, revenues drastically declined.
"The effects were detrimental to the gains that we had achieved in wildlife conservation.
"It was not easy to operate in such circumstances. Wildlife has been giving almost 70 % of its income to RDC and almost 100% to communities. You can see the impact was very bad," says Peter Ncube, a villager.
During Covid-19 lockdowns air and intercity travel were suspended and the tourism sector suffered badly. Zimbabwe's tourism sector relies to a significant extent on foreign customers that include trophy hunters and tourists who visit the country by air and road.
The Zimbabwe Environmental Law Association says the impact of the Covid-19 pandemic on the tourism sector was far greater than in other sectors. According to the group's findings, the industry lost nearly US$100 million in revenue as hunters continuously cancelled bookings because of Covid-19.
Hwange Rural District Council had not responded to a request for a comment at the time of publication.
This article was originally published by The Citizen Bulletin, a non-profit news organisation that produces hard hitting hyperlocal reporting and analysis for south western region of Matabeleland.
Related Topics